Trip Highlights – West Coast Explorer
Discover the fabulous sea kayaking on Scotland's west coast, exploring locations such as Plockton, Skye and Knoydart
Experience an overnight sea kayaking expedition, packing everything you need into your kayak and wild camping
Revel in the flexibility of an itinerary which combines some nights indoors and other nights camping wild – the best of both worlds!
Blue Graded Sea Kayaking Holidays 4-6
Our Blue grade sea kayaking trips are suitable for people with at least 5 days previous experience, although don't worry if you have never Eskimo Rolled! You should be confident on the water and it is preferable if at least some of this experience was under instruction, such as on our Introduction to Sea Kayaking in Scotland course.
You should have a good level of fitness as you can expect up to 6 hours of sea kayaking each day, with plenty of breaks onshore to stretch your legs. The kayaking will be in coastal waters with few open crossings and you can expect to kayak up to 12km in a day, although this will be subject to weather and wind conditions.
Again, all of our blue trips are accommodation based, so you can enjoy hot showers and a warm bed throughout the week.
Before joining this trip, the questions you should be asking yourself are:
1. Do you have more than 5 days paddle experience?
2. Do you have a good level of fitness?
3. Do you love getting out and about in some beautiful wild places?
Accommodation
This trip combines bunkhouse accommodation with wild camping. Based from a bunkhouse in the West Highlands, we also come prepared with all the equipment we need to go on overnight wild camping trips by sea kayak. The itinerary will be very flexible, allowing us to choose to camp for 1, 2 or even 3 nights over the course of this 5 night trip, depending on the weather and sea conditions.
The hostel accommodation are dormitory-style bedrooms with 4 beds in each, allocated to males and females accordingly. There is no option of single / double / twin rooms on this trip. Please note – You must bring a sleeping bag and a towel.
For camping nights we provide single tents unless you are travelling with a partner or in a group and would like a tent to share. We also carry a base camp tent, which means that we can all gather together for dinner and a hot drink even if the weather is less than perfect. Single tents are two man size and for sharing we use three man tents.
Food
Meals will be prepared either at the hostel or while camping, except for the final night, when we'll go to a local pub for a celebratory meal. While the leader will co-ordinate and undertake as much of the cooking as possible on the trip, everyone is expected to help out with the preparation of meals and with washing up, as this ensures the best meals in the shortest possible time after what can be a long day of kayaking.
You will be met by your Wilderness Scotland Guide in the centre of Inverness Railway Station at 10:30 on Day 1 of your trip. Your guide will be waiting there with a kayak paddle in his/her hand so should be instantly recognisable! For full details on how to get to Inverness, please see our website: Travel to Scotland
Customer Kudos
Every client receives a feedback survey when they return from their guided, self guided or tailor made holiday with us.
Once completed the review is published on our website just as soon as our database updates. The little touches and details are important to us and where issues are raised we make positive changes to our trips to improve your experience.
That's why we read each of our client's reviews and although we don't respond to all of them, if it's glowing feedback then we get the satisfaction of helping to make your holidays truly memorable.
by Michael Blackledge 30/08/2016
Pre-Trip Service
The initial dealings were clear and concise with a rapid response.
Trip Comments
Howard Jeffs was an excellent leader ensuring that everyone on the trip was looked after and ensuring that no one was over-faced with having to deal with conditions too far outside their experience, but at the same time ensuring that they were 'pushed' to improve their skill levels
Accommodation and Food
A good mix of food was provided, if anything there was too much food which resulted in waste
Your Guide
see previous comments
The Bottom Line
The holiday was excellent, however the only adverse comment is that there seemed to be a disjoint when it came to the admin in the office dealing with requests made by the attendees and providing the necessary information / provisions to the leader.
There had been requests to provide sleeping bags and mats for some of the attendees which were not provided to the leader, resulting in time having to be spent sourcing this equipment, food intolerances notified to the HQ had not been taken into account, again resulting in the leader having to sort out and source different food, again wasting time and finally the fact that some attendees were bringing all their own equipment did not seem to have been notified to the leader.
Otherwise the running of the actual trip, the accommodation and the standard of leadership was excellent leading to a thoroughly enjoyable and memorable holiday which also increased our skills level and improved our paddling confidence

TEAM WILDERNESS RESPONSE:

Thanks very much for bring this to our attention, the office team had noted all these things but there was a bit of a breakdown in communication when packing the trailer. We're really sorry about this and are looking into ways to make sure this doesn't happen again. It sounds like you had a fantastic trip overall so hopefully we can welcome you back to the Highlands again soon.
by Joshua Cohen 26/07/2016
Pre-Trip Service
The form was easy to fill out, and the booking process was hassle-free!
Trip Comments
It's absolutely impossible to go through everything that I loved about this trip, so I'll try to be as concise as possible. The guides (Donald and Sarah) were incredibly knowledgeable, helpful, funny, and friendly! They lead the trip incredibly effectively and knew how to make every day an enjoyable one (even when we had a day of being locked-out from paddling by the weather). The trip itself was well-designed and it was fun being a part of the planning process in various capacities as we got to help choose or give input on where to go each day. Having planned and run paddling trips before for groups of various skill levels, it was impressive to see the casual ease in which everything seemed to come together. Between the gorgeous land-/sea-scape, the (mostly) cooperative weather, the abundance of wildlife (seals every day? Totally unexpected), the relaxing paddling, the wonderful food, and (most importantly) the fantastic company, this is a trip that I would go on again and again!
Accommodation and Food
Don't change a thing about the food. Please. I loved having the chance to try some local-style dishes over the course of the trip, and as far as "trail food" goes, this was above and beyond. Accommodations were great too, despite the weird situation with the minor overcrowding early in the trip. Bonus points for the tent gear being well-kept and relatively brand-new (lord knows I've been in tents that leak even when there hasn't been a drop of rain all night, and it can very quickly sour a trip)!
Your Guide
Donald and Sarah were wonderful to paddle with. Their knowledge of the area and the history were incredible, and they taught me a lot more about Scotland than I was expecting to learn! Both guides were very fun and funny, and they handled the group effortlessly. Given the nature of trips that I've seen or lead before, I was very pleasantly surprised that they let the paddlers with more experience have some free reign. I was especially impressed that they slipped in a large handful of moments where everyone got a chance to lead or practice different skills.
The Bottom Line
My "final verdict" of this trip is that it's a "must go on" experience for anyone who at least has paddled a few times (though seriously-advanced experience is absolutely not necessary). For those who have more experience at paddling, this is a really amazing and beautiful way to experience Scotland and the Highlands' wilderness! Wilderness Scotland will have you in good hands, and it will certainly be a highlight trip that you will remember for a very long time. I'm so glad that I found this trip, and I will 100% book another trip through them for the next time that I travel to Europe!
by Melinda Whong 02/07/2016
Pre-Trip Service

Trip Comments

Accommodation and Food
The lunches got a bit repetitive. But I appreciate that there's limits to what can be packed
Your Guide
They were very friendly, knowledgeable and helpful. They were happy to give paddling advice and instruction when asked as well. That was much appreciated.
The Bottom Line
It was excellent. The weather limited us quite a bit, which was a shame. But not the fault of Wilderness Scotland, of course!
by John Burrell 28/06/2016
Pre-Trip Service

Trip Comments
maybe a better backp plan if the weather is bad
Accommodation and Food
I would have liked the option to have room with my wife but appreciate this would have been dificult to arrange.

TEAM WILDERNESS RESPONSE:
When based at a bunkhouse we don't have the option of offering couples their own rooms unfortunately, this is stated in the trip dossier. Whilst camping on the trip you are welcome to share a tent.
Your Guide
they were friendly and helpful and had to deal with challenging weather conditions, they did their best despite the bad weather. Well organised and good standard of paddling, offered good tips for kayaking techniques
The Bottom Line
we both enjoyed it and would think about another trip with you, was a pity about the weather curtailing one of the trips.
by Helen Millson 26/06/2016
Pre-Trip Service
Always answered my pr- trip queries with kindness and relevant information.
Trip Comments
LOVED the incredible scenery!!! Also a fab group and excellent leaders!
Accommodation and Food
Just what we needed.
Your Guide
Donald and Sarah were really great!! Very knowledgeable, very friendly, were not fazed by the poor weather conditions. Made us all feel comfortable and happy at all times!
The Bottom Line
I would LOVE to do more trips with Wilderness Scotland. An excellent group!!
by Belinda Physick 07/09/2015
Pre-Trip Service
Very good packing list, photos & video about kayaking footwear
Trip Comments
All of it was brilliant!
Accommodation and Food

Your Guide
Ali and Jonny were very good indeed. Both friendly, cheerful, organised etc, and made it an excellent trp.
The Bottom Line
This was a really wonderful trip - great being able to combine the exped/camping for two nights with the comfort of the hostel on the other nights.
by James Geldard 30/08/2015
Pre-Trip Service

Trip Comments
Good - because of the friendly, knowledgeable guides. This particular trip might have benefitted from slightly better showering facilities than the ones on offer in the NT Scotland bunkhouse.
Accommodation and Food
See previous comment.
Your Guide
Both Ali and Johnny were excellent. They were friendly, knowledgeable, and sympathetic to the abilities of the individuals in the group.
The Bottom Line

by Megan Smith 30/08/2015
Pre-Trip Service
wasn't that easy to navigate the website. I tried to book online, the system just stopped, and I had no idea whether I had booked or not.
The customer service team were great on the phone and by email
Trip Comments
fabulous guides - gave us complete confidence in what we were doing, along with being a wealth of knowledge and highly entertaining. Lovely Scottish weather provided throughout - great kayaking, with good 'on the go' decisions to respond to changes in weather, closed roads etc
Accommodation and Food
food was plentiful, tasty and good. Lunches in particular had awesome variety. Bunkhouse was clean and comfortable. Not sure how to rate the accommodation for wild-camping!! - good locations but a few too many midges!
Your Guide
Guides were both amazing. Inspired confidence, handled group dynamics well, enabled everyone to have a brilliant trip. Fountains of knowledge, oodles of patience, and highly entertaining throughout. I would trust them to take me on a kayking trip again anytime.... Thank you lots!
The Bottom Line
awesome trip. Just the right amount of challenge and fun. Superb guides - made it a fabulous experience for the whole group
by Robin Hermanussen 06/08/2015
Pre-Trip Service

Trip Comments

Accommodation and Food

Your Guide

The Bottom Line

by Peter Williamson 04/08/2015
Pre-Trip Service

Trip Comments
I had to drive with my own bus to the kayaking spots
Accommodation and Food

Your Guide

The Bottom Line
Very good experience
Prices and Departures
103 people viewed this trip in the last week
2 Bookings in the last 72 hours
Book with confidence - we guaranteee our trips to run as soon as 2 people book.
Trip Details
The West Coast Explorer is designed to highlight the best of what sea kayaking in Scotland can offer.
Based from a hostel in the West Highlands, we also come prepared with all the equipment we need to go on overnight wild camping trips by sea kayak!
The itinerary will be very flexible, allowing us to choose to camp for 1, 2 or even 3 nights over the course of this 5 night trip, depending on the weather and sea conditions.
This flexibility allows us to experience both expeditioning and also day paddles. It also means that we have lots of options for where to sea kayak – Kintail, Plockton, Loch Hourn at Knoydart, Skye … the options are limitless! This trip is perfectly suited for people who have some previous experience of sea kayaking and who want to try an overnight sea kayaking trip – but who don't feel ready for the challenge of our longer sea kayaking expeditions.
Trip Itinerary
Day 1 – Sea Kayaking Holiday Begins
We travel to Kintail in the West Highlands. After lunch and an opening briefing, we head out for an afternoon sea kayaking, most likely in the sea at Loch Duich, where we can kayak past the iconic Eilean Donan Castle! Overnight hostel. (L, D)
Day 2 – Sea Kayaking Touring and Coaching
We head out for a day sea kayaking. There are so many places to choose from! Perhaps we'll paddle with the seals at Plockton, or maybe head across the Skye Bridge and explore the islands of Broadford Bay. As we kayak, our guides will offer tips and advice to improve your sea kayaking skills. Return to the hostel late afternoon to plan our expedition! (B, L, D)
Days 3, 4 and 5 – Sea Kayaking: Overnight Expedition
Having checked the weather, sea state and tides the previous evening, we will set off on an overnight expedition, wild camping along the way, leaving the hostel behind! This allows us to reach and explore some really wild locations. For example, we could venture to Knoydart and explore the wild coast of Loch Hourn, or possibly even go to Skye and explore some of its 400 miles of spectacular coastline! We will wild camp in remote locations, revelling in the dark, starry skies and spectacular scenery. On Day 5 we return to the hostel late afternoon, enjoy a shower and then head out to a local pub for a slap up meal!(B, L, D)
Day 6 – Final Day Sea Kayaking in Scotland
After breakfast, we enjoy a morning paddle before packing up and returning to Inverness, arriving late afternoon. (B)
Call Your Adventure Consultant Now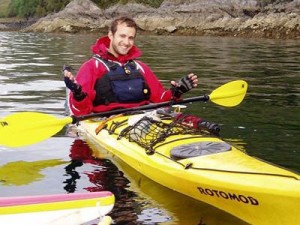 Speak to the Team
Call or message. Get straight through to a local expert in the Highlands of Scotland.
Phone
Prices and Departures
103 people viewed this trip in the last week
2 Bookings in the last 72 hours
Book with confidence - we guaranteee our trips to run as soon as 2 people book.