Traverse Scotland from coast to coast on a rewarding journey through deep glens and past dramatic mountain ranges.
Take in the sweeping views across Loch Ness, perhaps catching a glimpse of the Loch Ness Monster!
Enjoy moderate hiking on good trails as you hike from village to village through this spectacular geological fault line.
Blue Graded Self Guided Holidays 4-6
Our Blue graded walking holidays involve climbing some of Scotland's best mountains and ridges. The walks are conducted at a good pace and you may be out hiking for 8 or 9 hours a day. The terrain underfoot can be anything from stalker's paths to rough or boggy ground, boulder fields and mountain tops.
The daily walks will occasionally involve a mountain ascent of over 3000ft / 900m high. To help you decide if you are fit enough for this trip, ask yourself:
Can you comfortably hike for 10+ miles (16+km), climbing mountains and covering a variety of challenging underfoot conditions? How often do you do this?
Our self-guided walking and hiking holidays feature a wide range of accommodation – very much depending on the remoteness of the region. This includes small hotels, guest houses and traditional B+Bs.
Our accommodation partners are carefully chosen according to a number of factors – charming locations, very good facilities and a reputation for providing Highland hospitality.
Our accommodation partners range from small guesthouses and bed and breakfasts to inns and country hotels. Many are small, owner-managed establishments where you can be assured of a highly personal service.
Wherever they are available, we will reserve en suite rooms for you. However, these may not be available in the high season, especially if you are booking your holiday at the last minute, so we cannot guarantee that all of your accommodation will be en-suite. We will, however, advise you wherever possible if this is the case.
Our accommodation partners pride themselves in locally sourced produce wherever possible and the food during your holiday in Scotland will be one of the highlights.
Clients who request a single room will incur a single room supplement – please refer to the dossier for details.
Customer Kudos
Every client receives a feedback survey when they return from their guided, self guided or tailor made holiday with us.
Once completed the review is published on our website just as soon as our database updates. The little touches and details are important to us and where issues are raised we make positive changes to our trips to improve your experience.
That's why we read each of our client's reviews and although we don't respond to all of them, if it's glowing feedback then we get the satisfaction of helping to make your holidays truly memorable.
by Cecile Frank 17/06/2016
Pre-Trip Service
I give David Russell, Julie Deans & Jane Gillies a 5 star rating in all aspect in helping me to make my first trip to Scotland. They went beyond the trip essentials to help me with Train, UK phone information & extra B/B accommodations that made my trip a success.
Trip Comments
We had Great weather. We were so taken by the spectacular & varied scenery of the Highlands & The Isle of Skye. The ability to hike in quiet surroundings with only the nature around you. We enjoyed open and warm Highland hospitality in welcoming, clean & comfortable accommodations at the end of our day.
Accommodation and Food
We enjoyed open and warm Highland hospitality in all of our accommodations. We found the rooms to be very clean, quiet & comfortable. We have special praise for the Kilmore Farmhouse. Colin & Frances were exceptional hosts.

All breakfasts were very good with all of our accommodations.

The packed lunches from the Hotel Eilean Iarmain needed some improvement. Water & soda were in glass containers which is not ideal for hiking. The lunch bags items were not consistent with choices made. There was also a problem with individual dinner/drink billing at the hotel pub that made check-out confusing.
Your Guide
We did the Great glen Way Walk on our own. The Rucksack Readers Guide was a great tool to enjoy the walk. Tim Francis was our guide for The Isle of Skye Group Tour. Tim is exceptional. His love of the country and his expertise in hiking made our experience an amazing adventure. We give him 5 star rating in all aspects.
The Bottom Line
This was our first trip to Scotland and Wilderness Scotland made it the most amazing experience. The web site tour outlines are true in their description. There is great communication with the booking team members. Accommodations were welcoming, very clean, comfortable with good food. We experienced exceptional Highland hospitality. Our guide, Tim Frances was highly experienced. A love for the country, it's history and it's great outdoors opportunities were reflected in his intimate knowledge of the land making our stay outstanding !
by Umberto Benelli 14/06/2016
Pre-Trip Service

Trip Comments

Accommodation and Food

Your Guide

The Bottom Line

by Kenneth Frank 14/06/2016
Pre-Trip Service

Trip Comments
The Great Glen Way was a wonderful hiking experience made even better by great weather and many sunny days. I thought that each day gave a different experience with topography and views.

The B&Bs were all very good, very clean and had excellent breakfast food. I thought that the Kilmore Farmhouse was the best of all - great quiet location, very nice rooms, and most of all, very friendly and gracious hosts (Colin and Frances).

The one negative comment I have is that the optional walk into Spaen Bridge should not be encouraged. The narrow road was dangerous to walk on with cars speeding past, and was a very long walk for the end of the day.
Accommodation and Food

Your Guide

The Bottom Line
Highly recommended hike. Staff at Wilderness Scotland was extremely helpful with all arrangements.
by Jim McElroy 09/06/2016
Pre-Trip Service
Helpful, responsive, complete.
Trip Comments
All the accommodations and arrangements were great and worked out perfectly.
Accommodation and Food
Could not be better.
Your Guide
Route notes were thorough and complete.
The Bottom Line
Thanks. We will use Wilderness Scotland next time.
by Marta Lanfranco 07/06/2016
Pre-Trip Service
There was a little problem with the website payment. If you don't pay immediately, there's no way to pay through the account. At least I haven't seen any button to click on and pay directly.
Trip Comments
Everything was perfect: excellent bb, maps and directions were easy to follow.
Accommodation and Food
The hosts were very kind and breakfast was always abundant and good.
Your Guide
Easy to follow.
The Bottom Line
I definitely will recommend you! Well done! Thanks.
by Nicole Raatgever 11/04/2016
Pre-Trip Service
Clear, detailed information provided and quick responses to any queries we had
Trip Comments
Rain, hail and sunshine accompanied us on our Great Glen Adventure which was exactly that. Scotland at its best :) With Wilderness Scotland's planning, advice and guidance it meant we were prepared for all eventualities, everything went so smoothly it was smiles all the way.
Accommodation and Food
The BnB's were all very good - some of them excellent. The breakfasts were again a mix of excellent and very good. The recommendations for eating out in the evenings were welcomed and without exception all of them were excellent - it was good to be told to book ahead as some were already full.
Your Guide
Self-Guided - trip notes were great - maps were informative and we referred to both the maps and trip notes throughout the walk.
The Bottom Line
The trip was excellent from the initial enquiry through the planning til the last minute - thank you Wilderness Scotland for ensuring we had a fabulous Great Glen adventure :)
by Mark Johnson 30/08/2015
Pre-Trip Service
Liked Rachael's attention to detail and feeling she was creating an experience for us.
Trip Comments
While the B&B's where nice the one in Inverness didn't measure up.
Accommodation and Food
See previous answer.
Your Guide
Might have been us but we were a bit confused on the route at a couple of places.
The Bottom Line
Loved it.
by Penny Whitford 28/08/2015
Pre-Trip Service
Well I was impressed with the e mail and phone contact pre trip. All very helpful.
Trip Comments
The highlights for us of The Great Glen Way were the newer high routes. Absolutely lovely. So quiet and peaceful , we hardly ever saw an other walker. The weather was wonderful too which was an unexpected bonus. Other highlights were some of the accomodations and coming across 2 very quirky cafes whilst out . Finally when we got to Drumnadrochit it was their Highland Gathering & Games , a first for us & we did enjoy watching that !
Accommodation and Food
All the accomodations were of a high quality. But of course we preferred some to others. No problems picking out the best , we felt the Lovat was the best enhanced by quite delightful staff who were walkers and cyclists like us . That's the one place I will definitely return to . My least favourite was the b&b in Spean Bridge (Riverside Lodge) with internal noise from other guests and the owners above you walking around which I dislike to hear.
Your Guide
Self guided & very well signed . Enjoyed having both the Harvey map and the Rucksack Reader.
The Bottom Line
We had a really great trip although it was nice to move from the flat rather abrasive surfaces of the canal to the high routes. Tremendous views and 2 smashing quirky cafes . So lucky with the weather but had the weather been bad at least we were staying in lovely hotels and guest houses and could have dried off ok!
by Pelin Ayaz 18/08/2015
Pre-Trip Service

Trip Comments

Accommodation and Food

Your Guide
It could be good to add Compeed to the item list for blisters. Also we figured that the Great Glen Way is very well maintained and as long as it is not raining one can also use sneakers most of the way.
The Bottom Line

by Mary Ann Hallyburton 17/08/2015
Pre-Trip Service
Website had helpful info
Trip Comments
We planned, luggage transfers, B and Bs and local restaurants all worked together creating a good experience.
Accommodation and Food
All of our host were kind, Mary at Tramps went the second mile.
Your Guide
Generally very good, the day from Invermorriston to Drumnadrochit could have benefitted from few more details and likewise the next day.
The Bottom Line
Loved it, great trip, Wilderness Scotland's organization was first class.
Trip Details
The Great Glen Way traverses Scotland from west to east, following the fault line which almost splits Scotland in two.
Hiking past some of our most beautiful lochs, this 127km route is one of Scotland's finest long distance trails.
Since it opened in April 2003, the Great Glen Way has quickly gained popularity as hikers discover the beautiful scenery along the route. Being less busy and slightly easier than the West Highland Way, it also attracts hikers who prefer a more peaceful or less challenging experience.
The Way begins in Fort William, beneath the slopes of Britain's highest mountain, Ben Nevis. You will then journey north-east through spectacular scenery and past Loch Lochy, Loch Oich, and of course Loch Ness, before finishing in the capital of the Highlands, Inverness.
Additional Nights Accommodation: Some people prefer to split Day 6, which covers 29km, into two shorter days. Do let us know at the time of booking if you would like to do this. Taking this option would add £65 per person to the trip price.
Upgraded Accommodation: We can also offer you an upgraded accommodation package along the route. The additional cost for this brings the total to £895 per person.
Luggage Transfer: One bag per person is included in the trip price, and this bag should be of a reasonable size and weight (maximum weight permitted is 18kg). If you are planning on bringing more than one bag person, or your bag weighs more than 18kg, please note that the luggage transfer company is entitled to levy an additional charge at their discretion, and this will be payable directly to the transfer company.
If you are seeking a slightly more challenging route, you may wish to consider the West Highland Way, which runs from Glasgow to Fort William. The Speyside Way is another option and is at a similar grade to the Great Glen Way.
Trip Itinerary
Day 1 – Arrive Fort William
Today you'll make your own way to Fort William where you'll spend the night at your first guesthouse of the trip.
Day 2 – Fort William – Gairlochy
The first day's hike takes you from Fort William, past the canal locks of Neptune's Staircase and north along the canal to the tiny village of Gairlochy. The views are dominated by the mass of Ben Nevis which reveals its craggy north face from this aspect.
Distance 17km
Day 3 – Gairlochy – South Laggan
The route follows the western shoreline of Loch Lochy as it continues north-east to the village of South Laggan. Loch Lochy is the first of the three main lochs you pass on the Great Glen Way.
Distance 21km
Day 4 – South Laggan – Fort Augustus
The routes continues along the canal and past the swing bridge at Laggan to Loch Oich, the second of the three main lochs in the Great Glen. The trail follows the east bank of Loch Oich then joins the canal side at the north end of the loch and follows it to the pretty village of Fort Augustus.
Distance 19km
Day 5 – Fort Augustus – Invermoriston
This short day gives the legs a chance to recover as you enjoy the first views of Loch Ness. The trail hikes along the north-west shore of Loch Ness to the village of Invermoriston.
Distance 15km
Day 6 – Invermoriston – Drumnadrochit
The trail continues along the side of Loch Ness but rises high above the banks as it passes the settlement of Bunloit before dropping down to Drumnadrochit. This village is located close to Urquart Castle and an early finish will ensure there is enough time to visit the castle, which is said to be a favourite spot for Nessie to reveal herself!
Distance 23km
Day 7 – Drumnadrochit – Inverness
The final day climbs up from the banks of the loch then descends north-east towards Inverness and the sea beyond. The final few miles are along the banks of the River Ness before the trail finishes in the heart of the city, next to Inverness Castle.
Distance 32km
On reaching Inverness, you will have trekked 117km (73 miles), traversing Scotland from coast to coast along its most natural route, the Great Glen Way. On arrival in Inverness, settle into your accommodation then decide whether you need an early night, or if it is time to celebrate your success!
Day 8 – Inverness and depart
After a leisurely breakfast, you may have time to explore Inverness, perhaps visiting its castle, before departing.
Call Your Adventure Consultant Now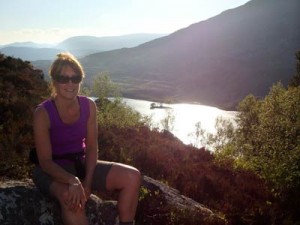 Speak to the Team
Call or message. Get straight through to a local expert in the Highlands of Scotland.
Phone