Escape to the Highlands on a short break walking holiday, with accommodation at a superb small hotel
Discover the tranquility of the North-West Highlands as we explore the dramatic glens, coastline and landscapes of this wild region
Learn about the landscape and the environment from our expert guides
Green Graded Walking Holidays
Our Green grade walking trips involve straight forward hiking, following generally good trails with no major ascents.
These walks are pretty leisurely and will last for around 5 hours each day. The terrain underfoot will usually be on paths or hill trails, which may still be muddy or rough in places. The daily walks are mainly glen and coastal hikes, with some ascents of low level hills, up to around 1,500 feet / 450m high. So to help you decide if you are fit enough for this trip, ask yourself:
Can you comfortably hike for 6 miles (10km), including some ascent, with rough ground in places? Have you done this recently?
This trip is based from a small hotel in the peaceful fishing village of Shieldaig, located close to Applecross and Torridon. This hotel offers cosy rooms (also with wi-fi), sea views and a superb restaurant which features in the Good Food Guide.
SINGLE ROOM SUPPLEMENT
We do not charge single person supplements to people booking on their own. However you will be expected to share a room with another person of the same sex. It may be possible to book a single room, provided one is available. Please request this at the time of booking and we will let you know if one is available. For this trip, a supplement of £185 is charged if a single room is required.
You will be met by your Wilderness Scotland Guide in the centre of Inverness Railway Station at 1300 on Day 1 of your trip. We aim to be back by 1700 on the last day. For full details on how to get to Inverness, please see our website: Travel to Scotland.
Customer Kudos
Every client receives a feedback survey when they return from their guided, self guided or tailor made holiday with us.
Once completed the review is published on our website just as soon as our database updates. The little touches and details are important to us and where issues are raised we make positive changes to our trips to improve your experience.
That's why we read each of our client's reviews and although we don't respond to all of them, if it's glowing feedback then we get the satisfaction of helping to make your holidays truly memorable.
by Ann Paton 29/04/2016
Pre-Trip Service

Trip Comments
We were very lucky with the weather (cold but dry with wonderful blue sky, snow on the hills, and vibrant colours everywhere. Very good choice of walks (grade 3) including Beinn Eighe Nature Reserve; along the coast from Torridon to Craig; up on top of the Beach Na Ba and then driving to Applecross; walking through Coire Dubh Mor between Liathach and Ben Eighe. Stopped at very attractive cafes and tea-shops. Also good photo-opportunities and bird-watching.
Accommodation and Food
The Tigh-an-Eilean Hotel at Shieldaig was really excellent: comfortable, welcoming, warm, and good food.
Your Guide
Malcolm was great - knew where he was going, able to tell us about the mountains, wildlife, history etc. A very special guide, who made the holiday really successful.
The Bottom Line
A wonderful way to see beautiful scenery in remote parts of Scotland.
by Kim Hardie 27/04/2016
Pre-Trip Service
all was good. Got quick responses via email from all the staff, payment was quick and seamless.
Trip Comments
We were soooo lucky with the weather, it was amazing. The location of where we stayed was stunning too. Malcolm was fantastic and flexible in terms of us, the group and where to go. One highlight was the impromptu visit to the coffee shop after our coastal walk in Craig/Diabeg, as was the next day coastal walk to Ardban Beach - lovely!
Accommodation and Food
The hotel staff were fantastic; the food was very good although very large portions. The hotel itself was fine, but starting ever so much to fray at the edges. The staff mentioned they were replacing carpet etc. The place needs a lick of paint really, but that said: very lovely, very comfortable, cosy and warm, and extremely hospitable and wonderful. So just a 'good' due to the refresher needed, but if the wee titbits are sorted, it would definitely be an 'excellent'! The people esp were amazingly lovely
Your Guide
Malcolm was excellent. He was very professional, catering to people's interests and needs, a great sense of humour and full of fun stories. Id take a trip with Malcolm again any time!
The Bottom Line
The trip was great. For me coming back from several injuries it was a good gauge of what I could do, and could do better, but the scenery, the walks, the base-location, Malcolm as our guide... I loved every minute of it and would certainly recommend this trip to anyone who is keen to do some walking in the best landscapes the world has to offer. I'd do it again in a heartbeat.
by Rosa Moran 09/11/2015
Pre-Trip Service
Wow, what can I say but that this trip exceeded my already high expectations. And Ken is the best guide I have ever had on a trip. Would definitely do another trip with Wilderness Scotland. I only wish it would have been more days.
Trip Comments

Accommodation and Food

Your Guide
Ken was not only a great guide, but the perfect ambassador of the Highlands. I come back with new found knowledge about pits and whisky too
The Bottom Line
Don't think about it. Sign up now. You won't regret it
by Kerin Sanders 30/10/2015
Pre-Trip Service

Trip Comments

Accommodation and Food

Your Guide

The Bottom Line
As usual an excellent trip with beautiful scenery and walks, a lovely hotel and food, a helpful and informative guide and friendly fellow guests, many thanks.
by 28/10/2015
Pre-Trip Service
David Very helpful when I needed to change dates of my trip.
Trip Comments
We really needed a holiday having been very busy at work and this was the perfect tonic. Great company, great guide, great food and accomodation and even good weather. Couldn't fault it.
Accommodation and Food
Eating in the dining room as well as the bar was really great. Helped that we were virtually only occupants. Food was excellent especially for a vegetarian used to limited imagination from most Chefs
Your Guide
Ken continued the tradition of fantastic guides. Attentive, helpful and a really nice man.
The Bottom Line
As you can probably tell we are already converts and I have already recommended you to a friend. We are already looking at next years booking.
Don't get too big and change a winning formula.
by Trish Bateman 28/10/2015
Pre-Trip Service

Trip Comments

Accommodation and Food

Your Guide

The Bottom Line

by Rosemary Wilson 23/10/2015
Pre-Trip Service

Trip Comments
As an introduction to the highlands, I couldn't fault it. Obviously glorious weather helps but overall it was an excellently run trip, Zoe was a great guide, and I thoroughly enjoyed it. Will definitely have to explore Scotland further!
Accommodation and Food
Luxury by description and luxury in reality. Maybe more luxury than was really necessary, but not complaining!
Your Guide
Zoe was fab. Knowledgeable, professional and great fun. Obviously has a passion for her job and I would recommend her very highly.
The Bottom Line
I had a great 5 days in the Highlands with Wilderness Scotland. Would highly recommend to anyone thinking about joining one of their groups - you won't regret it and will have many happy memories. Thank you!
by Roswitha Rehm 22/10/2015
Pre-Trip Service

Trip Comments

Accommodation and Food
Hotel: comfortable, but does not warrant the price (according to the internet £ 100.00/night). The food in the bar was excellent. For me, the food in the dining room was over the top in terms of quantity and price. Some dishes were too fussy whilst others were the exact opposite ((e.g. halibut served with an unpeeled potatoe; potatoes used for "pommes boulangères" were bland and soggy - without onions.

TEAM WILDERNESS RESPONSE:
Thanks for your feedback about the accommodation on your trip. We will certainly follow up with the accommodation regarding your thoughts surrounding the food. With regards to price, some accommodations do come at a premium in the more remote parts of the Scottish Highlands as they effectively do not operate at capacity over the winter season (if at all) and hence the cost may seem out of sync with other similar properties that operate at capacity all year round in more accessible areas of Scotland. Ultimately we have to look at the complete package when staying in more remote locations, which include provision of great food, comfort and general hospitality and access to areas which are great for hiking without having to travel too far.
Your Guide
Not only was our guide cheerful and knowledgeable, she also adapted extremely well to the strengths and weaknesses (which was my case) of the group.

TEAM WILDERNESS RESPONSE:
That's great to hear :-)
The Bottom Line
Excellent trip. However, I think that Wilderness Scotland should take care of tipping hotel staff and pay their guides so that visitors do not have to pay even more, considering that the price (£ 900.00) for the trip - that lasts just 4 1/2 days - is high.

TEAM WILDERNESS RESPONSE:
We have had many discussions on tipping and whether to include it or not within a trip cost. At this moment in time we do not include tips as we see tipping as a personal thing and something that should only be given if you believe the food and service quality to be of a high enough standard to warrant this rather than being an automatic inclusion. Our guides certainly do not expect tips and are paid at the higher end of the industry average for what they do - I'm not sure what gave you the impression we don't pay them. It is rare that we have feedback questioning the value for money of our trips but we do take all your points onboard as we plan for the 2016 season including a review on pricing.
by Roger Auckland 21/10/2015
Pre-Trip Service

Trip Comments

Accommodation and Food
Particularly good
Your Guide

The Bottom Line
Couldn't fault any aspect
by Wendy Auckland 21/10/2015
Pre-Trip Service

Trip Comments

Accommodation and Food
Didn't think you could put on weight on a walking holiday!! Smaller portions would have been better.
Your Guide
Zoe made you feel really safe and that she had your best interests at heart. Super guide.
The Bottom Line
Absolutely wonderful.
Prices and Departures
58 people viewed this trip in the last week
Book with confidence - we guaranteee our trips to run as soon as 2 people book.
Trip Date
Price
Availability
Trip Status
12th Oct - 16th Oct 2016
£975
Trip Full
19th Oct - 23rd Oct 2016
£975
3 place(s) left
Trip Details
This newly revised itinerary explores the enchanting regions of Applecross (on the west coast, directly west of Inverness) and Torridon (located slightly further north).
Applecross was made famous by Monty Hall's TV show but remains a sleepy and idyllic part of the Highlands, surrounded by stunning mountain and coastal scenery. Torridon has a different character altogether, being surrounded by bold, towering peaks, separated by spectacular glens with a real sense of wilderness.
This 4 night trip is based from a small hotel located between Applecross and Torridon, allowing us to explore both regions easily from our base. The spring and autumn departures take advantage of the wonderful colours of the landscapes at those times – with snow-capped peaks in spring and vivid golden colours in autumn. With accommodation in a delightful hotel with a superb restaurant, this makes for the perfect short break walking holiday in the Scottish Highlands.
Trip Itinerary
Day 1 – A short walk at Beinn Eighe Nature Reserve provides a gentle introduction to this walking holiday. Through beautiful forest and up to a viewpoint which offers fantastic vistas of Loch Maree and into the Fisherfield Forest.
Day 2 – We drive up Bealach na Ba, one of the highest roads in the UK with a maximum elevation over 600m. From the high pass, we enjoy a rewarding high level walk (without the uphill slog!) across the mountain tops, taking in the magnificent mountain and sea views.
Day 3 – Hiking in Torridon's Beinn Damph Forest offers a really wild experience but surprisingly few trees! There are, however, lots of mountains! We weave a route through the wilderness, hiking between the high peaks, passing wild lochs and underneath dark crags on a wonderful hike.
Day 4 – We explore the coastline which lies directly across Loch Torridon from our hotel. We may hike to a former youth hostel which boasted a wonderfully remote setting, or perhaps explore the rocky coastline, looking out for otters, sea eagles and herons as we go.
Day 5 – We explore the incredible landscape of Torridon, one of the most striking mountain scenery in the Scotland. We take a low level hike through the Torridon peaks, gazing up at the incredible mountains which surround us. For more on this trip download the trip dossier below.
Call Your Adventure Consultant Now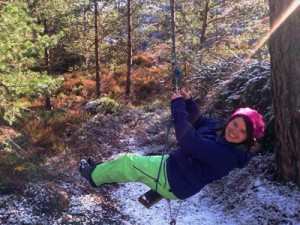 Speak to the Team
Call or message. Get straight through to a local expert in the Highlands of Scotland.
Phone
Prices and Departures
58 people viewed this trip in the last week
Book with confidence - we guaranteee our trips to run as soon as 2 people book.
Trip Date
Price
Availability
Trip Status
12th Oct - 16th Oct 2016
£975
Trip Full
19th Oct - 23rd Oct 2016
£975
3 place(s) left