Enjoy guided hikes up iconic Scottish mountains such as Suilven and Stac Pollaidh
Discover some of the best coastal walking in Scotland including a walk to the Old Man of Stoer
Relax and look for marine wildlife on a cruise around the Summer Isles
Blue Graded Walking Holidays
Our Blue grade walking trips involve climbing some of Scotland's best mountains and ridges. The walks are conducted at a good pace and you may be out hiking for 8 or 9 hours a day. The terrain underfoot can be anything from stalker's paths to rough or boggy ground, boulder fields and mountain tops.
The daily walks will occasionally involve a mountain ascent of over 3000ft / 900m high. To help you decide if you are fit enough for this trip, ask yourself:
Can you comfortably hike for 10+ miles (16+km), climbing mountains and covering a variety of challenging underfoot conditions? How often do you do this?
This walking holiday enjoys accommodation in a 4-star guest house located close to the town centre in Ullapool. The guest house enjoys stunning views across Loch Broom is conveniently located close to the hills which we will be exploring.
Accommodation is in a choice of double or twin rooms, which are en-suite with a shower.
SINGLE SUPPLEMENT
There is no single person supplement charged to solo travellers; however, you will be required to share a room with another person of the same sex. If you require a single room please request this at the time of booking and we will check availability for you. A single room supplement of £245 is charged if a single room is available – please see booking form terms and conditions.
You will be met by your Wilderness Scotland Guide in the centre of Inverness Railway Station at 13:00 on Day 1 of your trip. Inverness is a small station so you should find the group and guide quite easily! For full details on how to get to Inverness, please see our website: Travel to Scotland.
Customer Kudos
Every client receives a feedback survey when they return from their guided, self guided or tailor made holiday with us.
Once completed the review is published on our website just as soon as our database updates. The little touches and details are important to us and where issues are raised we make positive changes to our trips to improve your experience.
That's why we read each of our client's reviews and although we don't respond to all of them, if it's glowing feedback then we get the satisfaction of helping to make your holidays truly memorable.
by Osmo Saari 08/08/2016
Pre-Trip Service

Trip Comments

Accommodation and Food
I know this isn't your fault, but the Scottish breakfast is way too heavy for me.
Your Guide
Our guide was the greatest. There was always an option if the weather was not so perfect for the original plan.
The Bottom Line

by Ashley Bartel 31/07/2016
Pre-Trip Service
Quick email response time. Helpful with other non-trip items such as finding the right train line etc.
Trip Comments
Our guide Jenny was great! She was very nice and kind. She was able to make quick schedule changes due to the weather and we were still able to see everything planned. I also liked that dinner was at a restaurant every night.
Accommodation and Food
B&B was nice and clean. I appreciated that they changed the towels everyday. It was nice to have dinner at a restaurant every night, gave people the chance to eat what they want with good variety,
Your Guide
Jenny was great and very helpful. She watched the weather and planned things accordingly.
The Bottom Line
I would book a trip with Wilderness Scotland again. Our guide Jenny was very nice and made the trip very enjoyable! Having a great guide really makes or breaks a trip and Jenny was great! B&B accommodations were nice and clean (beautiful view) and food was good.
by Jan Kennedy 06/07/2016
Pre-Trip Service
I loved that David called back when I had a question, even though it was from outside theUK
Trip Comments
The guesthouse we stayed in, Ardvreck, was so much more luxury than I'd expected, but also more welcoming. A really good bedside light is unusual. Great cotton sheets and a good bathroom shelf. Might sound funny but was so useful!
Accommodation and Food
Great Ardvreck guesthouse breakfasts, fantastic packed lunches and different places for supper!
Your Guide
Tim was friendly and volunteered lots of extra information. His love of the Highlands was almost tangible and his patience with the slower walkers ( me) was wonderful.
The Bottom Line
I loved every minute of my holiday - ate superbly well, walked about as much as I could and felt happy and satisfied with every single day
by David Rosenkrantz 04/07/2016
Pre-Trip Service

Trip Comments

Accommodation and Food

Your Guide
Tim's combination of knowledge, humor and energy was superb.
The Bottom Line

by Susan Zarrow 02/07/2016
Pre-Trip Service
- Had difficulty getting the payment to go through on the website.
+ Questions were answered quickly and in a friendly manner by email.
- Requested info on a reliable travel agent in Scotland to handle the non-WS parts of our trip. Was emailed website links to do all of the research and all of the bookings myself.
Trip Comments
The flexibility was great. I liked how the trip was tailored to the weather for the week, and I liked how we could eat wherever it was most convenient - if we finished a hike in the early evening, we could have dinner in the nearest town - we didn't have to drive all the way back to home base. The restaurants were excellent, and I appreciated being able to order whatever we wanted.
Accommodation and Food
Ardvreck guest house was lovely in every way, except that the extremely weak and slow wifi was very aggravating. The wifi needs to be stronger, and available in the guest rooms, not just in a small area in the downstairs sitting room. We wanted to dispatch with online business quickly, so it wouldn't intrude on our holiday, but the wifi situation meant that it took up a lot of time in the evenings.

TEAM WILDERNESS RESPONSE:
I hope that this didn't detract from your enjoyment of the trip. The WIFI in the Highlands can be a bit spotty at times but I hope that you still managed to unplug and unwind and enjoy your trip.
Your Guide
Tim is great. Capable, professional, personable, organized. He was an absolute delight to be with. He tended to the group's needs brilliantly. He tailored the itinerary to the weather very well.
The Bottom Line

by Peter West 27/06/2016
Pre-Trip Service
I had all the information I needed and was fully briefed.
Trip Comments
Excellent trip in a new part of Scotland for me. Good walking and amazing vistas
Accommodation and Food
Excellent guest house & brilliant food in the
local restaurants in Ullapool. Pie restaurant very good after a days walking!!
Your Guide
Tim was 5 star. He is knowledgeable, a good organiser, caring and has a sense of humour.
The Bottom Line
Go for it!!
by Rep DeLoach 27/06/2016
Pre-Trip Service
It all worked out well, although I guess your website could have the ability to pay with a credit card.
Trip Comments
The trip was absolutely amazing. We loved the hikes, the planning, the van, everything. Our guide, Tim Willis, could not be beat.
Accommodation and Food
Every aspect of the food was great. Breakfast, lunch, dinner - you name it.
Your Guide
Tim Willis was amazing! He was funny, friendly, patient, knowledgeable, hardworking, thoughtful - you name it! We could not have had a better person with us.
The Bottom Line
We absolutely would not hesitate to use Wilderness Scotland again. We already are planning another trip for next summer!
by Paul Redfern 22/06/2016
Pre-Trip Service

Trip Comments

Accommodation and Food

Your Guide

The Bottom Line
Absolutely fab - my third trip with Wilderness Scotland and each one has been excellent!
by Darsie Bowden 07/06/2016
Pre-Trip Service
I loved getting loads of information on what to pack and what to expect, plus frequent check-ins.
Trip Comments
This was a trip of a lifetime for me. I had never been to Scotland; I had never tested myself on this kind of terrain; I had never traveled solo. There are three things that made the trip for me: the excellent guide, Kirsty; the wonderful companions on the trip (whom I had never met), and the magnificent highlands of Assynt. Every day was different and exceptional in it's own way, and for me the experience was transformative.
Accommodation and Food
The B&B was wonderful: just right for hungry, weary hikers. The views were extraordinary, the host was exceptionally friendly and helpful, the the breakfasts were outstanding. Kirsty took us to a different restaurant every night, and each offered different kinds of food (salmon, hake, venison pie), all of which was delicious. Good beer and whiskey didn't hurt either. Packed lunches were great, especially the desserts!
Your Guide
I have traveled a good bit on guided trips, but Kirsty is the best guide I've ever had. Her instincts about people and the terrain (including weather) are matched by her knowledge and training. She was truly gifted. Further, she produced beautiful sunny weather, two rainbows, terrific sunsets, frequent animal sightings and a full moon. Genius. She is highly personable, funny, and encouraging. I can't imagine a better guide for this trip. I hope to repeat this experience sometime in the future.
The Bottom Line
Wilderness Scotland is the best. I chose it by chance on the Web, and as the trip went on, I was more and more convinced that I had lucked into an outstanding organization--well orchestrated, high quality, wonderful people.
by Natasha Redfern 06/06/2016
Pre-Trip Service

Trip Comments
This trip was really amazing, the walks each day carefully thought out to the weather, also the additional detail that our excellent guide Kirsty gave around the wildlife and the flowers and the history of the landscape.
Accommodation and Food
We stayed in a lovely B&B outside of Ullapool our room was cleaned every day which was a joy to come back to every night
Breakfast was catered for our day ahead needs.
Lunch was provided by a local deli, the food was excellent and more than enough
Evening meals - we ate at various places during the week, the meals were varied and excellent.
Your Guide
Kirsty is an amazing guide, she is able to keep the right pace for the whole group, she has a genuine interest in every member of the party and ensuring we are all safe and happy. I personally was able to conquer some fears/goals which has put joy back into walking.
The Bottom Line
This trip offers some amazing walking in areas that you just won't find alone, you do need to have the right gear and fitness then the rest of the trip is enjoyable.
Prices and Departures
68 people viewed this trip in the last week
Book with confidence - we guaranteee our trips to run as soon as 2 people book.
Trip Date
Price
Availability
Trip Status
1st Oct - 7th Oct 2016
£1,195
Trip Full
20th May - 26th May 2017
£1,195
Places available
17th Jun - 23rd Jun 2017
£1,195
Places available
15th Jul - 21st Jul 2017
£1,195
Places available
19th Aug - 25th Aug 2017
£1,195
Places available
30th Sep - 6th Oct 2017
£1,195
Places available
Trip Details
This walking holiday explores the beautiful regions of Assynt and Coigach in the North West Highlands.
Located just to the north of Ullapool, the hills and lochs create a landscape of outstanding natural beauty.
The hills have a feel regal and distinctive as they rise boldly from the moors, each peak with its own place on the otherwise loch-strewn landscape. The coastline is just as memorable, as picture-perfect sandy beaches are interspersed with rugged cliffs and sea-stacks.
So unique is the structure of this landscape that it was the first area in the UK to be designated a UNESCO Geopark, which marks its geographical significance and heritage.
Although many of the hills which we may climb on this trip are below 3000 feet, it is certainly one of the most spectacular mountain areas in the Scottish Highlands. We will enjoy a combination of hill, glen and coastal walks, which will allow us to experience all aspects of this wonderful region of Scotland
Trip Itinerary
Day 1 – The Corrieshalloch Gorge National Nature Reserve
After meeting in Inverness, we travel to the North-West Highlands, stopping on the way for a short walk at the impressive Corrieshalloch Gorge National Nature Reserve and the 50m high Falls of Measach.
Day 2 – Hiking Cul Mor
This distinctive mountain dominates the skyline and offers superb vistas from its lofty summit. We follow a good trail for the initial ascent before climbing quite steeply to the cairn which marks the high point to enjoy wide-reaching views across both mountains and sea.
Day 3 – The Summer Isles and Stac Pollaidh
Our day starts with a relaxing cruise through the Summer Isles, a beautiful archipelago with striking rock features. We'll stop for lunch at the wonderful Achnahaird Beach before making an afternoon ascent of Stac Pollaidh – which is one of the best 'little mountains' in Scotland – it stands just 613m high and the hike will only take around 3 hours.
Day 4 – An Ascent of Suilven
After a couple of fairly relaxing days, you should be ready for the challenge of hiking up Suilven. Although just 731m high, this is a remote mountain and the approach walk takes around 2 hours. A steep climb lifts you onto its wide summit plateau where you will be rewarded by one of the most sensational views you will ever see. A long but fantastic day of walking in Scotland.
Day 5 – Coastal Walks to The Old Man of Stoer and Achmelvich
Today will be an easier day, after the exertions of climbing Suilven. The Old Man of Stoer is a sea-stack and provides a superb half-day coastal walk. We'll follow this with a visit to Achmelvich Beach – on a sunny day, you could be fooled into thinking this is the Caribbean as you walk on the white sand or paddle in its turquoise waters.
Day 6 – A Hike on Ben Mor Coigach
This rarely climbed hill is one of Scotland's best-kept hill-walking secrets! Although just 743m high, our sea-level start means that you will hike up every metre! The rocky ridges which link its tops are scree-covered which can be tough but the views from the summit out to the Summer Isles are simply glorious.
Day 7 – A Walk in Easter Ross
On our final day, we will head south from Ullapool back towards Inverness. There are many options for walks and our guide will select a route which allows us to arrive back in Inverness for 1600 hours and the trip end.
Call Your Adventure Consultant Now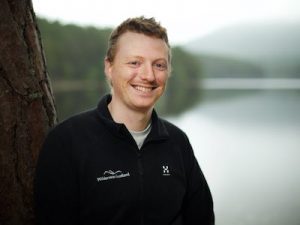 Speak to the Team
Call or message. Get straight through to a local expert in the Highlands of Scotland.
Phone
Prices and Departures
68 people viewed this trip in the last week
Book with confidence - we guaranteee our trips to run as soon as 2 people book.
Trip Date
Price
Availability
Trip Status
1st Oct - 7th Oct 2016
£1,195
Trip Full
20th May - 26th May 2017
£1,195
Places available
17th Jun - 23rd Jun 2017
£1,195
Places available
15th Jul - 21st Jul 2017
£1,195
Places available
19th Aug - 25th Aug 2017
£1,195
Places available
30th Sep - 6th Oct 2017
£1,195
Places available