Discover the majesty of the deep glens, clear rivers and wild lochs on expertly guided walks each day as we explore a National Park named as one of the 50 Great Places on Earth by National Geographic
Hike on ancient whisky smugglers trails and visit Scotland's first licensed distillery
Experience genuine Highland hospitality at the end of each day, as we stay in Strathspey and Royal Deeside
Green Graded Walking Holidays
Our Green grade walking trips involve straight forward hiking, following generally good trails with no major ascents.
These walks are pretty leisurely and will last for around 5 hours each day. The terrain underfoot will usually be on paths or hill trails, which may still be muddy or rough in places. The daily walks are mainly glen and coastal hikes, with some ascents of low level hills, up to around 1,500 feet / 450m high. So to help you decide if you are fit enough for this trip, ask yourself:
Can you comfortably hike for 6 miles (10km), including some ascent, with rough ground in places? Have you done this recently?
We spend our nights in welcoming and friendly country house hotels: the first 3 nights in Royal Deeside and the next 3 nights in Strathspey. Accommodation is in twin or double rooms with en-suite bathroom facilities.
Both accommodations are owner-managed and our hosts enjoy the great outdoors almost as much as we do! A warm welcome is assured, and you can choose to spend the evenings in the lounge next to the wood-burning-stove or in one of the village's local pubs.
Food is of paramount importance and our meals are prepared from the best of local produce. We'll enjoy wonderful home-cooked meals each evening, with good, healthy portions. Naturally, vegetarians and other dietary requirements are willingly catered for – simply let us know at the time of booking.
SINGLE SUPPLEMENT
There is no single person supplement charged to solo travellers however, you will be required to share a room with another person of the same sex. If you require a single room please request this at the time of booking and we will check availability for you. A single room supplement of £150 is charged if a single room is available – please see booking form terms and conditions.
You will be met by your Wilderness Scotland Guide in the centre of Inverness Railway Station at 1030 on Day 1 of your trip. We aim to return by 1700 on the last day. For full details on how to get to Inverness, please see our website: Travel to Scotland.
Customer Kudos
Every client receives a feedback survey when they return from their guided, self guided or tailor made holiday with us.
Once completed the review is published on our website just as soon as our database updates. The little touches and details are important to us and where issues are raised we make positive changes to our trips to improve your experience.
That's why we read each of our client's reviews and although we don't respond to all of them, if it's glowing feedback then we get the satisfaction of helping to make your holidays truly memorable.
by Nuria Puig Brandes 29/06/2016
Pre-Trip Service

Trip Comments

Accommodation and Food
The B&B in Breamer was excellent but the one in Newtonmore needs some renovation.
Your Guide
Our guide was excellent. He learned us a lot of things, found the best walks despite de bad weather and adapted the walks to our rhythm and interests.
The Bottom Line

by Christine Favre-Bulle 21/06/2016
Pre-Trip Service
I had some difficulties to open your sent documents and to pay; so I called to your customer service and I was very well answered and helped. I also appreciated the friendly style of your answers by e-mail!
Trip Comments
I had been waiting for this trip since the beginning of the year. I'm going through a rather stressing period of my life and I put great hope in a time off which would help me to refill my resources. Being in this wonderfull nature, walking, enjoying a whole week where I had not to worry but just to appreciate and to laugh about the weather with my companions...all this made it a over all successful trip.
Accommodation and Food
We started with a perfect B&B, so it was hard for the second to be compared to the first!
Your Guide
This was my first guided trip and I'm amazed how comfortable this is and how great the profit. I discovered and learned so much about your country, its faune and flore, history and economy. But also about navigation and the right equipement and the right behavior in nature. Marc was very generous in sharing his knowledge and rich experience. Thank you so much!
The Bottom Line
I would make one suggestion: change the meeting point for this trip to Aviemore or Newtonmore which can be reached by train from Edimbourg. This would spare maybe one or two extra nights in Inverness and allow to finish the trip in this perfect B&B in Braemar!
by Michael Kenntenich 20/06/2016
Pre-Trip Service
All was perfect, especially the first E-Mail contacts made me aware of how friendly and professional the WS staff works.
Trip Comments
We had a small group and Mark Cox took the opportunity to shape the walking tours perfectly to meet our expectations and wishes. He did a wonderful job to give us an awesome experience, it was like being with a friend, a very patient, funny, and knowledgeable friend.
Accommodation and Food
I absolutely LOVED "Callater Lodge" in Braemar - this was a perfect accomodation, the warmest welcome, the owners went more than the extra mile to make us feel welcome and cared for. The house is lovely and perfectly equiped, the breakfast and lunch packages were excellent.
Your Guide
Mark Cox made this a truely once in a lifetime experience for our small group. He managed to show us paths and spots we will never Forget, and he worked hard to offer us a UNIQUE experience. He was very funny, explained everything we wanted to know (and many things we didn't even think of asking). It felt as if a friend was showing us around in his home - thank you Mark!
The Bottom Line

by Anne Pritchard 05/06/2016
Pre-Trip Service
I recently booked two trips with you, but have found your responses a bit confusing as they never refer to the actual trip name, just eg "your recent trip". I assume this feedback form is for the Cairngorms trip 21st to 27th May.
Trip Comments

Accommodation and Food
Callater Lodge in Braemar was excellent, very comfortable bedroom, good breakfast, Julian and Kathy were superb. However Craigerne house in Newtonmore was a wee bit disappointing - Dougie and Jo were very friendly and helpful, the food was fine, but my bedroom was definitely not up to the excellent standard I had come to expect on Wilderness Scotland holidays - nothing actually wrong with it, just rather basic and ordinary.

TEAM WILDERNESS RESPONSE:
Thanks for your feedback on the accommodations, I'm sorry you found Craigerne House disappointing. We have been working with Dougie & Jo for many years as their warmth and hospitality is some of the best in the business. However, I have passed your comments on as together we are always striving to maintain our high standards across all accommodations we use.
Your Guide
Malcolm was extremely knowledgeable about the location and the wildlife, and adapted the itinerary to suit the weather and the group. Personally I'd have liked the walking to be a bit more challenging, but we did see plenty of interesting and beautiful sights.
The Bottom Line
Another great holiday with Wilderness Scotland, I shan't hesitate to recommend them to my friends.
by Carol Johnston 05/06/2016
Pre-Trip Service

Trip Comments

Accommodation and Food

Your Guide
Malcomb is a great guide. Very sensitive to everyone's needs and abilities
The Bottom Line
Great trip. Beautiful scenery. Memorable experience.
by Fiona Leatt-Hayter 05/10/2015
Pre-Trip Service
Great, professional website. Always kept very well informed
Trip Comments
I was confident I would really enjoy the trip, but it was just amazing - great group, amazing tour guide, welcoming and friendly hosts at accommodation and fabulous, varied walking. To top it off, every day done in glorious sunshine. I will definitely be back!
Accommodation and Food
Ian at Moorside in Braemar was great, as was tHe accommodation and food. Dougie in Newtonmore was fantastic and very friendly. The room here wasn't as good, with the bathroom quite mouldy and dirty and no wifi in room, which is quite important with so many clients coming from overseas. This meant I spent quite a bit of time sitting in the main room in a comfy chair - dougie was often there and so friendly and welcoming

TEAM WILDERNESS RESPONSE:
We have passed on the comments about the accommodation in Newtonmore to Dougie which were well received. I think your room may have just been suffering from the need of an end of season refresh which has now taken place and on recent review of the property all was looking good. WiFi in every room in every accommodation in Scotland is not yet common place and this is sometimes sacrificed to select an accommodation that offers warm hospitality in a great location. Dougie does ensure all our clients feel truly welcomed whilst staying in Newtonmore which we think is paramount to a positive trip in Scotland.
Your Guide
As had been indicated from previous reviews, Kirsty was excellent - and indeed she was. So incredibly knowledgeable, friendly, welcoming and took us on amazing and varied walks. What an asset she is to Wilderness Scotland.
The Bottom Line
I have already recommended Wilderness Scotland to other people. The entire experience was fabulous. Keep up the great work, Wilderness Scotland.
by Nina Taunton 05/10/2015
Pre-Trip Service
Everything perfect, nothing could be better
Trip Comments
Varied, well thought out itinerary in the most beautiful surroundings.
Accommodation and Food
Our hosts in both places were very friendly, accommodating and helpful
Your Guide
Kirsty is way beyond excellent. In addition to all her attributes, she conjured up Scotland's only week of summer for us. She is in a category of her own.
The Bottom Line
I've just said it all!
by Destiny McCune 05/10/2015
Pre-Trip Service
Jane was very helpful and friendly and answered my question promptly.
Trip Comments
Every day was a new highlight so I cannot choose just one. It was a joy to be walking the Highlands seeing all the crystal clear waters and the beauty of the natural surroundings.
Accommodation and Food
At the Craigerne House Hotel in Newtonmore my shower needed a new curtain as the one hanging at it was moldy on the bottom. And the bathroom had mold in spots. Otherwise the accommodation was fine. And Dougie and his wife were extremely hospitable.
Your Guide
Kirsty was a joy. Her knowledge of the area is excellent and she offers it with the passion and enthusiasm she feels for it. Her care in ensuring each traveler's enjoyment was evident in the level of personal attention she gave to all of us. We had many laughs along the way because of Kirsty's lighthearted, positive spirit.
The Bottom Line
The walking trip that Wilderness Scotland provided me through Cairngorm National Park in the Highlands was excellent. I truly loved every minute of it. With Kirsty's guidance it was a new adventure every day at a comfortable pace that created an atmosphere of camaraderie amongst all in our group and that resulted in what I'm sure will be lifelong friendships.
by Steven Markey 05/10/2015
Pre-Trip Service
Rachel was very helpful over the phone and all communications regarding our trip were timely and informative.
Trip Comments
As well as having been blessed with magnificent weather throughout our tour, we were blessed with a most wonderful guide whose company we already miss. Kirsty was a pure delight and her enthusiasm and knowledge made us fall in love with Scotland in general and the Cairngorms in particular. It is quite an expense for us to travel from the US so we can't come back as often as we would like but she has already inspired us to come back for a tour of the Orkney Islands with Wilderness Scotland.
Accommodation and Food
This is a mixed rating. The food at our first accomodation in Braemar was outstanding as well as the hospitality. In both cases the accomodations were adequate but average - certainly not award winning. Food at the second location Newtonmore was very average. Both hosts were quite nice though and we particularly enjoyed Ian at Moorfields House.
Your Guide
Kirsty delighted us always, pointing our interesting sights and telling stories. She is the best.
The Bottom Line
Our experience showed us that Wilderness Scotland is a very professional organization with high standards for customer satisfaction. I have already and will continue to recommend them to anyone seeking adventure off the beaten path and an intimate experience of the beauty that Scotland has to offer.
by Claudia Markey 05/10/2015
Pre-Trip Service

Trip Comments
I went on this trip with my husband Steve Markey. Our guide was Kirsty. She was amazing and payed special attention to each one in the group. If you want to hear a detailed, glowing response to your question, please look at my husband's questionaire. Kirsty will understand.....:)
Accommodation and Food
Very good in Morefield Hotel. Food was excellent. Good to average in Newtonmore. The room needed updating and the duct tape in the shower was dfferent....The restaurants that Kirsty took is to where excellent.
Your Guide
Kirsty was our guide. She is just the best. Personal attention to detail, her amazing knowledge and people skills were excellent. She even made a rush candle for all the October birthday people in our group. :) She has a great sense of humour and tells a great story. Just loved her to bits!
The Bottom Line
An amazing trip, Extremely well organized, wonderful new-found and like minded friends. Memories to last a life time. Well done Kirsty and Wilderness Scottland.

TEAM WILDERNESS RESPONSE:

Thank you for your comments, we are delighted that you had an amazing trip and will pass on your comments to Kirsty. We hope to welcome you back to the Highlands soon.
Prices and Departures
198 people viewed this trip in the last week
Book with confidence - we guaranteee our trips to run as soon as 2 people book.
Trip Date
Price
Availability
Trip Status
27th Aug - 2nd Sep 2016
£1,195
Trip Full
24th Sep - 30th Sep 2016
£1,195
3 place(s) left
20th May - 26th May 2017
£1,195
Places available
10th Jun - 16th Jun 2017
£1,195
6 place(s) left
22nd Jul - 28th Jul 2017
£1,195
Places available
26th Aug - 1st Sep 2017
£1,195
Places available
23rd Sep - 29th Sep 2017
£1,195
Places available
Trip Details
Hiking in the Cairngorms National Park is a special experience, as we explore a region named by National Geographic as one of the 50 Must Visit Places on Earth.
From the majesty of Royal Deeside (where the Queen has her Scottish residence at Balmoral Castle) to Strathspey, where the high plateau rises above the charming villages, flanked by some of Scotland's oldest forests, Cairngorm National Park delights at every turn.
On this walking holiday, we enjoy some of the best easy hikes in the Cairngorms National Park as we explore Strathspey, Royal Deeside and Highland Perthshire on a two-centre circumnavigation of Scotland's largest National Park. There is a huge variety of possible hikes to choose from but wherever we venture, we'll enjoy the fantastic scenery, sense of wilderness and rich history and heritage.
As well as savouring its wilderness, we'll discover its heritage as we visit a whisky distillery, a 13th century Highland Castle and a wildlife reserve on this memorable walking holiday.
Trip Itinerary
Day 1 – Hiking the Whisky Smugglers Trails
From Inverness, a short transfer south-east takes us to eastern Strathspey, Scotland's most famous whisky-making region. We'll enjoy a short walk, following the ancient trails once used by whisky smugglers, keen to avoid the law! We finish up at one of Scotland's most iconic distilleries, where we enjoy a private tour (with samples!) before transferring south into Royal Deeside and our guest house accommodation.
Day 2 – Hiking Royal Deeside: The Shadow of Lochnagar
This superb circular hike explores Glen Muick, which lies in the shadow of the famous peak of Lochnagar. It takes us through ancient pine forest, past one of Queen Victoria's hunting lodges and beneath towering cliffs as we circumnavigate beautiful Loch Muick.It's also a great spot for spotting wildlife – look out for red deer and golden eagles!Overnight Royal Deeside.
Day 3 – The Cuckoo Glen and the Devil's Punchbowl
This circular hike is one of the best in Royal Deeside. We follow a good trail north to the edge of the Cairngorm plateau, where some of the highest peaks in Scotland rise from the deep glens. The wilderness is striking and the beauty is all around. The rivers are a real highlight with the striking rock features of the Linn of Dee and the Devil's Punchbowl most notable. Overnight Royal Deeside.
Day 4 – Highland Perthshire and Strathspey
We transfer west into Highland Perthshire, where we make our way to a 13th century castle for a hike on its vast estate. We enjoy a level route through a beautiful forest in a steep-sided glen. We finish back at the castle, with time for a tour of its interior and perhaps the gardens too. A short transfer north takes us into Strathspey and our base for the next 3 nights, a small hotel in a sleepy Cairngorm village.
Day 5 – Into Glen Feshie
Despite being considered by many to be the most beautiful of all the Cairngorm valleys, Glen Feshie is overlooked by many hikers, meaning that a walk here is one which has a real wilderness feel. Our circular route follows the banks of the bubbling River Feshie, through ancient pines to an old mountain hut. The route offers great wildlife-spotting potential with red deer golden eagles and even the rare capercaillie being found in the glen.
Day 6 – Abernethy Forest and Wildlife Reserve
The Abernethy Forest is thought by many to be the most beautiful in Scotland, with beautiful lochs surrounded by ancient Scots Pine trees and framed by views of the high mountains. We'll enjoy a circular walk, perhaps taking in a section of the Speyside Way long distance trail, and finishing at a wildlife reserve where we'll hope to see red squirrels and many bird species including, in the early part of the summer, the osprey.
Day 7 – Hike in Cairngorms National Park
There are so many great walks in the Cairngorms that we like to keep the itinerary flexible and decide which hike to take in on the day. One option is a hike close to our hotel, a favourite of the locals. It ventures into the eastern edge of the Monadh Liath mountains on a circular route to Loch Gynack. It's a wild and beautiful place, so an apt location to end our trip. After the hike, we complete our circumnavigation of the Cairngorms National Park by transferring north back to Inverness for the trip end.
Call Your Adventure Consultant Now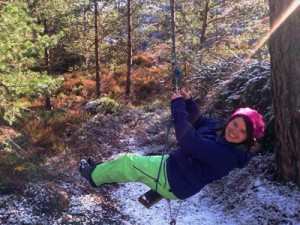 Speak to the Team
Call or message. Get straight through to a local expert in the Highlands of Scotland.
Phone
Prices and Departures
198 people viewed this trip in the last week
Book with confidence - we guaranteee our trips to run as soon as 2 people book.
Trip Date
Price
Availability
Trip Status
27th Aug - 2nd Sep 2016
£1,195
Trip Full
24th Sep - 30th Sep 2016
£1,195
3 place(s) left
20th May - 26th May 2017
£1,195
Places available
10th Jun - 16th Jun 2017
£1,195
6 place(s) left
22nd Jul - 28th Jul 2017
£1,195
Places available
26th Aug - 1st Sep 2017
£1,195
Places available
23rd Sep - 29th Sep 2017
£1,195
Places available