Visit one of the most diverse and spectacular regions of Europe, indulging in the wild scenery and rich history of the islands
Experience the rich ornithology of Lewis, spy red deer and golden eagles on Harris, and seek out otters on Skye
Enjoy exceptional Highland hospitality at our carefully selected guest houses, set in magnificent locations on the coast
Green Graded Walking Holidays
Our Green grade walking trips involve straight forward hiking, following generally good trails with no major ascents.
These walks are pretty leisurely and will last for around 5 hours each day. The terrain underfoot will usually be on paths or hill trails, which may still be muddy or rough in places. The daily walks are mainly glen and coastal hikes, with some ascents of low level hills, up to around 1,500 feet / 450m high. So to help you decide if you are fit enough for this trip, ask yourself:
Can you comfortably hike for 6 miles (10km), including some ascent, with rough ground in places? Have you done this recently?
Accommodation
This itinerary spends two nights on Skye followed by 4 nights on the Isle of of Harris. Our accommodation partners are carefully chosen according to a number of factors – charming locations, very good facilities and a reputation for providing Highland hospitality. Wherever they are available, we will reserve ensuite rooms for you.
Single Room Supplement
There is no single person supplement charged to solo travellers however, you will be required to share a room with another person of the same sex. If you require a single room please request this at the time of booking and we will check availability for you. A single room supplement of £275 is charged if a single room is available – please see booking form terms and conditions.
Please note that on this itinerary single rooms are only available on the following departure dates: 27th May and 5th August. This is due to the size of the small hotels we work with in remote locations.
You will be met by your Wilderness Scotland Guide in the centre of Inverness Railway Station at 10:30 on Day 1 of your trip. Most people choose to stay in Inverness before the trip. For full details on how to get to Inverness, please see our website: Recommended Travel.
Customer Kudos
Every client receives a feedback survey when they return from their guided, self guided or tailor made holiday with us.
Once completed the review is published on our website just as soon as our database updates. The little touches and details are important to us and where issues are raised we make positive changes to our trips to improve your experience.
That's why we read each of our client's reviews and although we don't respond to all of them, if it's glowing feedback then we get the satisfaction of helping to make your holidays truly memorable.
by Diane Sinclair 03/10/2016
Pre-Trip Service
I rang from Australia to sort out payment details as it wouldn't go through on the web. It was sorted out very easily and promptly so the call didn't cost me an arm and a leg!
Trip Comments
I absolutely loved the wild beautiful terrain where we walked. Tim our guide was the best - sensitive to the group's needs and hard working as he found walks which suited the group and kept us away from the wet weather.
Accommodation and Food
Hotel on Harris nicer than the one on Skye (my room was bigger) but both comf or table. The food was excellent on both islands.
Your Guide
As mentioned before Tim was the best. He is so knowledgable about his country and passionate about sharing that knowledge. Also he quickly assessed the fitness level of the group on the first walk and planned other walks accordingly, as well as giving options to the group.
The Bottom Line
Beautiful scenery, the best guide ever, great food and accommodation. What more would you want on a trip?
by Jerry Thornton 27/09/2016
Pre-Trip Service

Trip Comments
Could not have been a better time! Tim Willis is a fantastic guide, professional, patient, always willing to accommodate our requests where possible, and he always had at least three options available to deal with changing weather. The hikes were gorgeous, the food and accommodations good. Would book with Wilderness Scotland again without hesitation.
Accommodation and Food

Your Guide

The Bottom Line
Could not have been a better time! Tim Willis is a fantastic guide, professional, patient, always willing to accommodate our requests where possible, and he always had at least three options available to deal with changing weather. The hikes were gorgeous, the food and accommodations good. Would book with Wilderness Scotland again without hesitation.
by Lucy Bullen-Smith 26/09/2016
Pre-Trip Service
Easy to book and get additional information as needed.
Trip Comments
Trip from pick-up to drop-off was well planned. Walks were varied with a high degree of flexibility to suit the conditions and group.
Accommodation was great.
Possibly would have preferred an all-in price to include all evening meals as splitting bills, paying separately always tricky.
Accommodation and Food
Accommodation was great in both Stein Inn and Harris Hotel. Food generally very good, with well-chosen restaurants/pubs.
Packed lunches from Harris Hotel were awful!
Your Guide
Tim was a super guide. He knowledge of the islands was great and he had an anecdote for every occasion! He was very flexible and catered for all the individual needs of the group.
Weather conditions meant that plans had to change significantly (including the return ferry) but each day was filled with activities and options and planning was seamless.
Thanks for a brilliant week, Tim.
The Bottom Line
I wouldn't hesitate to recommend WS to anyone wanting to experience a taste of Skye and Harris. Locations of walks and accommodation are well-chosen. Guiding is great and the passion and pride WS show for their country is catching.
by Aliceson Robinson 29/08/2016
Pre-Trip Service
Seamless. Clear communication and good prep materials.
Trip Comments
A wonderful group size and well thought through tour. I felt like we saw a huge amount of Skye and the Outer Hebrides and had some wonderful walks. Corey was an excellent guide - what a nice man, hugely knowledgable and what patience! He did an excellent job tailoring our trip to the attendees. Really pleasant hotels. Only two things that would move to Excellent: 1) I quite like food so perhaps we could book dinners further in advance which would open up more options (although recognise hard as groups diverse in their caring about food); 2) The terrain in Scotland is more rough than I have found on other walking holidays with less defined trails. Relative to some other companies I have walked with...and recognising I had my two 69 year old parents with me!...perhaps this walk is more of a 3 given some rough underfooting, less defined trails and steep uphills. Although I guess that depends who the target market is! Overall very pleased though and would return to Wilderness Scotland again
Accommodation and Food

Your Guide
Corey was an excellent host. Engaged, funny and a true outdoors advocate. My mum also took a tumble and he managed to be both lifesaver, fireman and comic.
The Bottom Line
Really enjoyed!
by Julia Fullalove 22/08/2016
Pre-Trip Service
Rachael was particularly helpful in arranging separate accommodation for myself and my daughter. It felt as though nothing was too much trouble . Very favourable first impression.
Trip Comments
Our trip was all about spending time with my daughter doing something active and interacting with natural world - as beginners we were well supported throughout and felt very positive after experience.
Accommodation and Food
Standard accommodation good in circumstances. might be an idea to have options of lunch out wherever circumstances allow as packed lunches, whereas fine on the whole, just felt a bit samey after a while.
Your Guide
Cory outstanding. Knowledgeable, professional yet very approachable and friendly. He was able to be very inclusive and differentiated activities to suit all levels. Would highly r.
The Bottom Line
As novices, a guided trip such as this enabled us to access walks and areas of Scotland we simply would not have been equipped to access on our own
by Romain Corvest 17/08/2016
Pre-Trip Service
All infos are on the website, team very friendly on the phone
Trip Comments
Awesome/passionate guide, very reactive, great accommodations
Accommodation and Food

Your Guide

The Bottom Line

by Laura Kennelly 17/08/2016
Pre-Trip Service

Trip Comments

Accommodation and Food
Very good accomodations.
Your Guide
I thought Steve went above and beyond in terms of teaching us how to navigate new terrain.
The Bottom Line
Excellent
by Vicky Anderson 25/07/2016
Pre-Trip Service
Quick clear positive response.
Trip Comments
Steve Gray was an excellent and most pleasant guide. The trip was smooth despite unexpected obstacles. We hiked in spectacular places.
Accommodation and Food
Very pleased with lodges and food menu. Slept well! Food was excellent and fresh. Wifi was available in lobby but not room in Tarbert.
Your Guide
Steve Gray simply is the best! Completely competent, friendly, witty, reassuring, and accommodating. He always wore a pleasant smile. He really extended himself to ensure a good time was had by all. I always felt in good hands under his wilderness leadership. I'd love to do another WS trip with him sometime. His bio is not listed on your WS website, which should be fixed.
The Bottom Line
#5! I absolutely would recommend WS to others. Thank you for sponsoring a wonderful trip!
by Wendy Castine 25/07/2016
Pre-Trip Service
All questions were answered immediately.
Trip Comments
Our guide, Steve Gray, was great and my fellow walkers all excellent companions but the weather was poor, particularly the first couple of days where the mist was so thick that we could not see the mountains at all.
Accommodation and Food

Your Guide
Our guide, Steve Gray, was first rate. He was a true professional...completely competent in every aspect ( safety, driving, map-reading etc.) and a great pleasure to be with.
The Bottom Line

by Janneke Koster 22/07/2016
Pre-Trip Service
Clear list of what to take. Informative website.
Trip Comments
The trip was wonderful. The weather was Scottish: a wee bit more sun would have made it even more enjoyable. Due to the rain our walks were a bit shorter than we had hoped/expected.
Accommodation and Food
The accomodation was good; however in the Stein Inn on Skye the beds were not great. But the breakfast was really fantastic ( all the fresh red summerfruits....yummy!) and also it packed lunches were good. It was a pity though, that wine could not be ordered for dinner, and the bar man was a bit grumpy. The owner (Helen?) was a real nice and warm person. The second hotel, the Harris Hotel had excellent beds. The breakfast however took very long. As orderings for the eggs and co. were only taken after all the cold breakfast was already eaten. The "cold" breakfast- buffet was good.Lunches were a bit mediocre.
Your Guide
Malcolm did work real hard to accomodate some different desires within the group. Despite the weather we had a wonderful week. We did get the impression though that the guide really makes long days, with report writing and stuff at the end of the day. We might have preferred to start the days of bit earlier so that more walking and sight seeing could have been fitted in ( it was often relatively nice weather early in the morning), but when there was a nice dry and warm evening he took us out to a beautiful place for sun set. We had a wonderful trip due to his guiding and explanations.
The Bottom Line
This is a lovely walking holiday. As me and my husband both have knee problems we were a bit apprehensive beforehand whether we could do it, but it turned out to be no problem. Malcolm, our guide, provided on nearly every longer walk possibilities to return and make the walk shorter, or to continue. The Scottish weather was very Scottish, but thanks to good outdoor clothing ( the recommended stuff is recommended for a reason!) it actually was hardly a problem at all!
Prices and Departures
211 people viewed this trip in the last week
4 Bookings in the last 72 hours
Book with confidence - we guaranteee our trips to run as soon as 2 people book.
Trip Details
Join us on this adventure to the wild Hebrides; the inspiring islands of Skye, Harris and Lewis.
Stand atop rugged peaks looking down upon perfect white sand beaches skirting the sea and across to the many smaller isles which dot the horizon.
The Hebrides are among the wildest and most beautiful islands anywhere in Europe. On this walking holiday your knowledgeable guide will provide a fascinating insight into the rich tapestry of island life, history and geology. They can also help you spot wildlife – perhaps including golden eagles, white tailed sea eagles, basking sharks, whales and dolphins, as well helping you identify the rich flora of the islands found in the famous coastal 'machairs' or flower meadows. With charming accommodation and delicious food, this award winning trip provides a memorable insight into the wild and beautiful Hebrides.
Trip Itinerary
Day 1 – Travel to Skye, afternoon walk in Glen Sligachan
Meeting in Inverness, we travel south west past Loch Ness and the stunning Eilean Donan Castle in Kintail before arriving on the Isle of Skye. We spend our first afternoon enjoying a wonderful walk in Glen Sligachan beneath the mighty peaks of the Black Cuillin and the Red Cuillin, which flank either side of the glen. Returning to our vehicle, we transfer to our waterside inn on the Waternish Peninsula of Skye. (L, D)
Walk details: 8km, approx 3hrs.
Day 2 – Quirang and the Old Man of Storr
After enjoying breakfast with sea views, we set out to explore the stark and unusual landscapes of the Quiraing and the Old Man of Storr on foot. We will also visit Kilt Rock and the charming village of Staffin on this relaxing day. (B, L)
Walk details: 8km, approx 4hrs.
Day 3 – Travel to the Isle of Harris
We enjoy a short coastal walk before taking the afternoon ferry from Skye to the Isle of Harris in the Outer Hebrides, looking out for seabirds and dolphins on the 90 minute crossing. On arrival on Harris, we visit the wonderful beaches of Luskintyre and Sheileboist before arriving at our guest house in time to freshen up before dinner. (B, L)
Walk details: 6km, approx 3hrs.
Day 4 – Glens and Beaches of North Harris
North Harris is one of the most spectacular areas of the Outer Hebrides. We spend the day exploring the glens and beaches, perhaps visiting the white sands of Huisinis or hiking into the glens to see the massive cliffs of Sron Uladal. A wonderful day whichever route we choose! (B, L)
Walk details: 12km, approx 5hrs.
Day 5 – The Machair of Harris and the Golden Road
Today we walk on the 'machair' of Harris, the Gaelic name for the coastal hinterland which in summer is a carpet of wild flowers. We climb Toe Head (365m), high above beach of Traigh Scarasta, from where St. Kilda can be sometimes be seen jutting out of the Atlantic horizon. We then complete a circuit of southern Harris as we drive back north via the 'Golden Road', stopping at 15th century Rodel Church and other places along the way. (B, L)
Walk details: 6km, approx 3hrs.
Day 6 – Walking Circuit of Scalpay
This tiny island is located off the east coast of Harris and is now connected to Harris by a bridge, which opened in 1997, with the first person to cross being 103-year old Mrs Kirsty Morrison. We'll enjoy a fine circumnavigation of the island, exploring its wonderful coastline and visiting the remote lighthouse at Rubh an Eorna (B, L, D).
Walk details: 10km, approx 5hrs.
Day 7 – Callanish Standing Stones; return to Inverness
After breakfast, we journey north to Lewis, where we visit the 5000 year old Callanish Standing Stones, which date back to 3000BC. Set high on a moor with a backdrop of sea and mountains, this is a moving experience for many and a fine place to end this island odyssey. Leaving the stones behind, we continue to Stornoway where we take the ferry back to the mainland and transfer back to Inverness. (B, L)
Call Your Adventure Consultant Now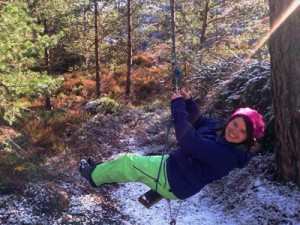 Speak to the Team
Call or message. Get straight through to a local expert in the Highlands of Scotland.
Phone
Prices and Departures
211 people viewed this trip in the last week
4 Bookings in the last 72 hours
Book with confidence - we guaranteee our trips to run as soon as 2 people book.