Explore pristine deserted islands, wild coastlines, and white-sand beaches by sea kayak.
Paddle in the crystal clear waters, enjoying the spectacular views of the coastal mountains.
Enjoy relaxed and comfortable evenings camping close to beautiful beaches.
Blue Graded Sea Kayaking Holidays 4-6
Our Blue grade sea kayaking trips are suitable for people with at least 5 days previous experience, although don't worry if you have never Eskimo Rolled! You should be confident on the water and it is preferable if at least some of this experience was under instruction, such as on our Introduction to Sea Kayaking in Scotland course.
You should have a good level of fitness as you can expect up to 6 hours of sea kayaking each day, with plenty of breaks onshore to stretch your legs. The kayaking will be in coastal waters with few open crossings and you can expect to kayak up to 12km in a day, although this will be subject to weather and wind conditions.
Again, all of our blue trips are accommodation based, so you can enjoy hot showers and a warm bed throughout the week.
Before joining this trip, the questions you should be asking yourself are:
1. Do you have more than 5 days paddle experience?
2. Do you have a good level of fitness?
3. Do you love getting out and about in some beautiful wild places?
This itinerary introduces a new concept to our sea kayaking holidays – base camp sea kayaking! We will be camping but we will generally stay on rustic campsites which have basic facilities such as showers and toilets. The campsites we select are located on the coast, and are peaceful and
undeveloped, often run by community organisations.
By camping several nights in each location, we do not spend time and effort moving camps each day, so can make the most of the wonderful sea kayaking on these islands. If conditions are right, we may head out on an overnight trip at some stage during the trip – flexibility is key.
Meals and Cooking duties!
While the leader will co-ordinate and undertake as much of the cooking as possible on the trip, everyone is expected to help out as this ensures the best meals in the shortest possible time after what are often long days sea kayaking.
You will be met by your Wilderness Scotland Guide area in the centre of Inverness Railway Station on Day 1 of your trip at 8.30am. Your guide will be waiting there with a kayak paddle in his/her hand so should be instantly recognisable! For full details on how to get to Inverness, please see our website: Travel to Scotland.
Customer Kudos
Every client receives a feedback survey when they return from their guided, self guided or tailor made holiday with us.
Once completed the review is published on our website just as soon as our database updates. The little touches and details are important to us and where issues are raised we make positive changes to our trips to improve your experience.
That's why we read each of our client's reviews and although we don't respond to all of them, if it's glowing feedback then we get the satisfaction of helping to make your holidays truly memorable.
by Rita Morgan 13/06/2016
Pre-Trip Service
Wrong equipment list was sent to me.
Trip Comments

Accommodation and Food
I felt the sleeping mat was average, at best. Several meals lacked sufficient protein. I was not fond of the evening meals.
Your Guide
Donald was very knowledgeable and helpful.
The Bottom Line
This was my second WS trip. Both trips have been superb! The Outer Hebrides are a "must" see. They are gorgeous!
by Petra Grell 09/06/2016
Pre-Trip Service
information and communication were excellent!
Trip Comments
Traveling by car with trailer and ferry was smooth, the guide was excellent prepared, he made a fantastic job all the time, the group (4+guide) was fabulous during all activities - on and off the water -, paddling was simply great. It has been a great experience.
Accommodation and Food
The food was great, maybe some of the recipes are a bit ambitious (cooking with four cookers, preparing dumplings), but very tasty. And a nice group activity. Simply would have worked for me as well. I really appreciated all the fresh vegetables and the diverse dishes as a vegetarian. The tipi was great during camping, the tents were fine. It was excellent, that I could add a sleeping bag and a sleeping mat to my booking a few days before the trip. Thanks again. If I had a wish, I would prefer a therma-rest as a mat.
Your Guide
Excellent! Perfectly prepared, competent, skilled, considerate, great sense of humor.
The Bottom Line
Excellent experience. This was my second sea kayak trip with wilderness scotland and next year I will book one again.
by Daniel Stucki 05/06/2016
Pre-Trip Service

Trip Comments

Accommodation and Food
Accommodation in base camp: I rented a sleeping mat from WS. Please provide information regarding quality of mat. I expected a better (thermarest) map, since it was described in the trip dossier, that these mats are the bests. All the other equipment was of outstanding quality.
Your Guide
Thank you Donald, we had a great time! Your knowledge not only about sea kayaking but also about the islands, history, etc. was outstanding.
The Bottom Line
Please consider a longer (e.g. 10 days) trip, since two days are "lost" with driving to the Outer Hebrides and back to Inverness.
by Patti Bleifuss 29/06/2015
Pre-Trip Service

Trip Comments
The trip exceeded our expectations. The guides made us feel comfortable paddling in more challenging weather.
Accommodation and Food
We had a nice campsite and the tent performed well in windy conditions. The food was good, but not great. Howard made some excellent dinners by supplementing the food provided with fresh scallops, mussels, and Stornaway Black Pudding. We liked the local cheeses and crackers and enjoyed the breakfast porridge. The lunches contained more junk food than we would normally eat. It was a nice gesture to provide the fresh berries, but they went bad immediately and are probably not suitable for camping.

TEAM WILDERNESS RESPONSE:
We plan to review all menus on our sea kayaking expeditions from feedback received this year so if there is anything you would like to see on the menu then please do let us know. It's a balance of ensuring you are taking in enough calories for the amount of activity you are undertaking with the amount of food that can be safely carried on an expedition...there should be some complex equation to compute this but it is in fact based on guide and client experiences and feedback so thanks for pointing this out.
Your Guide
Howard was an excellent guide and made the trip a success under less than ideal conditions. Erin did a great job as well. We felt that the trip was the level of difficulty described, but the cool and windy weather made it seem a bit more challenging because no one wanted to go for a swim. Initially, we were a little outside of our comfort zone, but our guides enabled us to become comfortable paddling in more challenging conditions. We enjoyed every day on the water, but the more challenging ones were our favorites. Howard was an excellent camp cook.
The Bottom Line
We loved paddling in the Outer Hebrides and Howard and Erin made this trip a great experience for us.
by Ingrid van der Zande 18/06/2015
Pre-Trip Service

Trip Comments
Paddling in the Outer Hebrides was an amazing experience – challenging at times (in a good way). Amazing scenery – the white sand beaches, the surf, swells and the stark landscape.
Accommodation and Food
Howard is a great chef!
Your Guide
The guides did a wonderful job of working around the sea/weather conditions so we experienced everything from more challenging to easier paddles.
The Bottom Line
A unique and wonderful trip.
by Jim Flanagan 17/06/2015
Pre-Trip Service
Gave all the information needed. Contacted us in a timely manner
Trip Comments
Howard's porridge!

Padding was suited to our skill level, and Howard and Erin found great paddles for the conditions. A little historical tourism mixed in for good measure.

Loved the way we were able to take advantage of local seafood for camp meals.
Accommodation and Food
Tent had a broken pole (quickly repaired) but was otherwise bomb proof. Hired sleeping pads seemed like they had been stored compressed. Slow to fill. Comfortable after first night.

Food was decent and supplemented with local seafood.

Stoat bars rule.
Your Guide
By the end of the trip every paddler knew how to use their skeg!

Howard and Erin found great paddles for the conditions and varied skill levels of the paddlers in the group.

Howard's love of the area was infectious. For paddling and for the historical interest.
The Bottom Line
We had a great time, and paddled in conditions that we would have talked ourselves out of without a guide we could trust, which will allow us to expand our horizons in our own waters back home.
by Dominic Batten 14/06/2015
Pre-Trip Service
Quick responses to queries
Trip Comments

Accommodation and Food
The tents are good. Eating meals huddled around the back of a van in a cold wind isn't much fun and a more powerful cooker is needed. The best bits (scallops, mussels and black pudding) were the results of the guide's enthusiasm. Cook-In sauces are always a bit of a nasty shortcut.
Your Guide
I always felt safe when on the water.
The Bottom Line
Five degrees warmer and this would have been a great trip. Despite the cold and wind I enjoyed it.
by Timothy Gardner 14/06/2015
Pre-Trip Service

Trip Comments

Accommodation and Food

Your Guide

The Bottom Line

by Matthew Dunn 07/09/2014
Pre-Trip Service
It would help to receive information about what food and drink items you would recommend to bring to supplement that which you provide. It would have also been nice to know that the food is provided is primarily vegetarian... We had luckily stashed a few peporammis! :0)
Trip Comments

Accommodation and Food
Cooking was very good, particularly the lengths Howard and Ali went to in giving us fresh sea food which was beautifully cooked and tasted delicious. It would have been nice to have had fresh meat stored in a cool box and perhaps a BBQ
Your Guide
Both Howard and Ali were clearly experienced and good at putting us at ease during the choppier waters- not many instances of that as the weather was amazing. They were both nice and fun to talk with and spend the evening with cooking and having a wee dram. They had just the right approach when it came to guiding to allow us to feel like we were all exploring together and that it was out holiday.
The Bottom Line
Exellent
by Vanessa Santillan 01/09/2014
Pre-Trip Service
This was not my first Wilderness Scotland trip, so I knew what to expect and it was all pretty straight forward.
Trip Comments
The exceptionally amazing weather (not a cloud in sight!), provided great conditions for kayaking. It gave me the chance to experience the variety of calmer waters and bigger swells. The attempt to kayak through a small wave (while in shallow waters mind you), cave explorations and rock hopping were a highlight. But the abundance in colours of the rocks in the caves, the turquoise water and white sandy beaches. Pure brilliance and what a sight to see!
Accommodation and Food
I knew what to expect but more meat if I'm to be picky, I was craving it by day 3. But no complaints with Howard's cooking, it was all were very tasty!
Your Guide
The brilliance of the trip would not have been possible without Howard's experience and knowledge, and applying it to planning the days kayaking routes. And also Ali's sharp eye for spotting eagles and dolphins. I don't think we would have seen half of what we saw if not for them. The reason I travel with Wilderness Scotland is to be able to kayak in remote beautiful places (with my limited kayaking experience) and not worry too much about the weather or conditions suddenly changing, and with these two you can really feel safe.
The Bottom Line
Perfect!! Perfect weather. Perfect location. Perfect guides. Perfect kayaking. Sea kayaking trips with Wilderness Scotland just gets better and better and I can't wait for the next one!!
Prices and Departures
43 people viewed this trip in the last week
Book with confidence - we guaranteee our trips to run as soon as 2 people book.
Trip Date
Price
Availability
Trip Status
30th Jul - 4th Aug 2016
£825
Trip Full
27th Aug - 1st Sep 2016
£825
1 place(s) left
27th May - 1st Jun 2017
£825
Places available
22nd Jul - 27th Jul 2017
£825
Places available
26th Aug - 31st Aug 2017
£825
Places available
Trip Details
For the ultimate sea kayaking in Scotland, join us for an island-hopping sea kayaking holiday exploring the Outer Hebrides.
North Uist and Harris boast some of the best sea kayaking in Scotland, if not the world. With crystal clear turquoise waters, incredible wildlife and stunning coastal scenery, this is sea kayaking for the connoisseur. We plan to spend time on both North Uist and Harris but the itinerary is deliberately vague to allow our guides to take advantage of the weather conditions and take you on a journey best suited to the current conditions.
Experience Required: 5 days recent experience of sea kayaking
You must have at least 5 days of sea kayaking experience before joining this trip, and it is preferable if at least some of this was under instruction. It should be recent experience – ie: within the last couple of years. You should be prepared for the possibility of rough conditions and have experience of kayaking in at least force 4 conditions. You should be confident on the water but the ability to Eskimo roll is not required. This trip runs with a maximum of 7 clients and at least 1 guide to every 4 clients. Please contact us if you have any doubts about your suitability for this trip.
Trip Itinerary
Day 1 – Travel from Inverness to the Outer Hebrides
Our journey to the Outer Hebrides traverses some of Scotland's finest mountain scenery as we pass through Skye and then crosses the Minch by ferry to reach North Uist. We'll head to our first campsite and set up our camp, which will be our base for the next 3 nights. With daylight on the islands lasting almost until midnight in May and June, we'll enjoy wonderful views of the coastline before settling down for the night to the sound of the surf. (L,D)
Day 2 – Sea Kayaking in the Outer Hebrides
After assessing the weather and sea conditions we will head out for a day's paddling, perhaps exploring the countless islands of Loch na Buaile and Loch Maddy itself. After a full day on the water, we return to our campsite for dinner and a relaxing evening. (B, L, D)
Day 3 – Island-Hopping by Sea Kayak
We enjoy another day exploring North Uist, which is known for its wide sandy beaches but also its rugged coastlines, punctuated by sea caves and wonderful rock features. We'll assess the weather and head out for the day, perhaps exploring the waters around the tiny island of Ronay, or venturing along some more remote parts of the east coast of North Uist. (B, L, D)
Day 4 – North to the Isle of Harris
We will move base camp to the Isle of Harris today. We pack up, leave the campsite and head north, taking the ferry across the Sound of Harris. On arrival, we'll have fun exploring another island by kayak! We'll camp on the coast, looking across to the Isle of Taransay and the North Harris hills. (B, L, D)
Day 5 – Sea Kayaking in Harris
From the fissured east coastline to the long, sandy beaches of the west coast and the skerries of the Sound of Harris, the coastline of Harris leaves sea kayakers spoiled for choice! Our guide will assess the weather and sea conditions before selecting a day trip which will live long in the memory. Return to camp late afternoon. (B, L, D)
Day 6 – The Outer Hebrides
We pack up camp and perhaps enjoy a last walk along the beach before heading back to Tarbert in time to catch the ferry back to Uig. The crossing provides an opportunity to reflect on the expedition and the unique experience of sea kayaking in the Outer Hebrides. We then make our way across Skye and back to Inverness, arriving late afternoon (time tbc after ferry timetables released). (B, L)
Call Your Adventure Consultant Now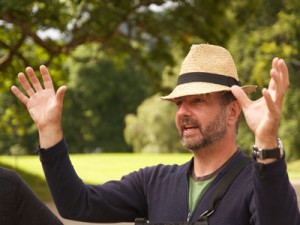 Speak to the Team
Call or message. Get straight through to a local expert in the Highlands of Scotland.
Phone
Prices and Departures
43 people viewed this trip in the last week
Book with confidence - we guaranteee our trips to run as soon as 2 people book.