Book your activity holiday with Europe's No.1 Adventure Travel Company - Wilderness Scotland
Our self guided holidays allow you to experience the magnificent scenery of the Scottish Highlands at your own pace.
We offer both self guided walking and self guided cycling trips. We make all arrangements for you including your accommodation, route notes and maps, baggage transfers and a 24-hour support service.
Choose from:
- Point to point hiking or cycling trips, followed recognised long distance trails (baggage transfer is always provided!)
- Trips where you drive or take trains and ferries between hotels. These trips often include some locally guided activities in each location.
While you don't need to be an expert hiker or biker to take on a self guided holiday, you do need to be more self-reliant. To book any of these trips, you must be travelling with at least one other person. If you are travelling on your own, we hope that you will be interested in joining one of our small group guided trips.
---
Trip Reviews
100% Unedited Reviews
Our clients receive a feedback survey automatically after finishing their guided, self guided or tailor made holiday with us.
Once it's submitted the review is automatically published on our website just as soon as our database updates. We read all our client's reviews and although we don't respond to all of them, where issues are raised we make positive changes to our trips to improve your experience and if it's glowing feedback then we get the satisfaction of helping to make your holidays truly memorable.
It was an excellent trip. It was a learning experience on how little we actually need; even with British Airways losing my luggage and not delivering it until 5 days into the trip, I had a wonderful time all in the same set of clothes and running shoes. (Thanks to Travel-lite for its attempt to work with British Airways to get the luggage to me.) There was no one inspirational moment -- it was the whole experience -- the long walks, the pubs, the people you meet on the way, the awesome scenery -- that inspires. The area around Loch Lomond seems magical in the trees, near the lake, while the open views on the moors were wonderful and beautiful. It all was inspirational; instead of heading back to the States, I wanted to keep on walking day after day in Scotland.
Joe Andrews
18/09/2013
Sally Franklin
13/04/2014
Again, a more precise map would have been highly appreciated.

TEAM WILDERNESS RESPONSE:
Thank you so much for your feedback Laurie, it's always great to hear how people found the trip and I'm glad you had a good time. I'm sorry to hear that you were disappointed with some of the accommodation; we know how important it is to come home to a nice place after a long day so we'll certainly pass those comments on to the accommodation.
As you know for this trip we provide you with the official West Highland Way book that includes two different maps. This information has seemed to work really well in the past but we'd love to hear where you had problems and what we could do to make the route clearer?
I'm glad you enjoyed the trip overall and had a great time walking The West Highland Way!
Laurie Couturier
26/08/2014
If you find yourself overwhelmed by the choice, or if you have questions about your fitness or suitability for any of these holidays, please feel free to contact our office on +44 (0)1479 420020 or by email.
Top 5 Reasons to Visit Scotland in Autumn
Posted on Aug 19, 2013 by Mary Lawless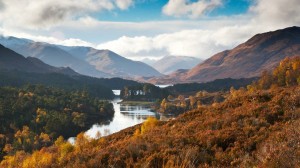 Autumn is a beautiful time of year to visit Scotland, the landscapes are ablaze with autumnal colours, the skies have a wonderful purple and orange glow and the wildlife is thriving with activity. Here are our top 5 reasons to visit Scotland in autumn. Wildlife Autumn Foliage Seasonal Produce No Midges Less Tourists Autumn […]
Continue Reading
---