Access some of the finest walking routes in Scotland by boat as you explore the most remote mountains in Britain and the Small Isles
Enjoy the unparalleled wilderness experience of the rough bounds of Knoydart and experience the wildlife which lives there
Sample some of the finest cuisine in Scotland while staying in a unique lodge which can only be accessed by boat
Blue Graded Walking Holidays
Our Blue grade walking trips involve climbing some of Scotland's best mountains and ridges. The walks are conducted at a good pace and you may be out hiking for 8 or 9 hours a day. The terrain underfoot can be anything from stalker's paths to rough or boggy ground, boulder fields and mountain tops.
The daily walks will occasionally involve a mountain ascent of over 3000ft / 900m high. To help you decide if you are fit enough for this trip, ask yourself:
Can you comfortably hike for 10+ miles (16+km), climbing mountains and covering a variety of challenging underfoot conditions? How often do you do this?
Our accommodation on Knoydart is an alpine-style wilderness lodge set right by the beach amongst magnificent coastal and mountain scenery. It offers simple accommodation in an unrivalled location. Accommodation is a choice of twin or single rooms with shared bathroom facilities. Single rooms are limited and are allocated on a first-come, first-served basis. There is no single supplement on this trip. If you would like a single room, early booking is highly recommended.
Freshly prepared, locally sourced meals are taken in the adjacent "Taste of Scotland" accredited and award-winning restaurant and are a real highlight of this trip, with freshly caught seafood a particular speciality. Most dietary requirements can be catered for. The restaurant is licensed and offers an excellent choice of wines, beers and spirits.
You will be met by your Wilderness Scotland Guide on the main platform at Mallaig Railway Station at 17:50 on Day 1 of your trip. The time coincides with the arrival of the train from Glasgow. For full details on how to get to Mallaig, please see our website: Travel to Scotland.
Customer Kudos
Every client receives a feedback survey when they return from their guided, self guided or tailor made holiday with us.
Once completed the review is published on our website just as soon as our database updates. The little touches and details are important to us and where issues are raised we make positive changes to our trips to improve your experience.
That's why we read each of our client's reviews and although we don't respond to all of them, if it's glowing feedback then we get the satisfaction of helping to make your holidays truly memorable.
by Stephen Gee 24/08/2016
Pre-Trip Service
Excellent guide. Accommodation and food delightful
Trip Comments
The Boat trips were very nice. Trip to the castle on Rum
Accommodation and Food

Your Guide
The guide was very informative and not afraid to push is a little.
The Bottom Line
Efficient booking and friendly attitude. I will definitely recommend .
by John Heath 09/08/2016
Pre-Trip Service

Trip Comments
We really enjoyed the camaraderie within our group - everyone got on well and that made it special
Accommodation and Food
better than excellent! Liz and her crew (Doune) were outstanding
Your Guide
Glen did a great job of including everyone in the experience as we had a broad range of walking ability
The Bottom Line
everything was a little better than we had hoped - and we had set our hopes very high!
by Darra McFadyen 05/08/2016
Pre-Trip Service

Trip Comments

Accommodation and Food

Your Guide
Excellent knowledge of local flora and fauna, very patient great photographer
The Bottom Line
Excellent accommodation, basic but comfortable and beautiful location. Great guiding, beautiful walks with lots of encouragement and flexible pace to meet the needs of the group. Food was way beyond expectations and staff were consistently, friendly, helpful with good local knowledge and willingness to meet any requests.
by Prue Barnes-Kemp 02/08/2016
Pre-Trip Service

Trip Comments

Accommodation and Food
The food and service experienced was beyond expectation, truly outstanding.
Your Guide

The Bottom Line
A wonderful experience, in a stunning setting, with fantastic people!
by Pam Landry 21/07/2016
Pre-Trip Service
Website is informative and one does not have to 'click' too many times to find detailed information! Staff is courteous, professional and knowledgeable whether communicating by email or on the phone!
Trip Comments
The trip experience was once again very positive with great scenery, guiding, planning, and participants.
Accommodation and Food
Folks at Doune (Jane & Marty, Liz & Andy) were friendly and accommodating. Food was fresh and well balanced.
Your Guide
Dave is knowledgeable about 'all things Scotland' and is a passionate & skilled guide. His ability to manage a group and make modifications where necessary is admirable.
The Bottom Line
Wilderness Scotland offers exceptional trips with qualified guides. Traveling with guides who share my passion for the natural world makes for great memories.
by Isabelle Gourraud 14/07/2016
Pre-Trip Service
it's easy to get in touch with the office team. The answers were fast and clear. The website is easy to find and read
Trip Comments
boat trips, the skeeper and his sailor were great (but the weather was not so good)
The landscape was so beautiful
Accommodation and Food
The lodge was confortable .
The catering somewhat "exotic" for french girls but very good (cheese after sweet ? ) :-)
All the personnel was thoughtful and nice
Your Guide
The guide always prepared to listen and knews very well the landscape and gave us good advices
The Bottom Line
Doune is beautiful
Timing OK
Good organisation
It was the visit that I expected (but I'm sorry my english is always so poor)
Wonderful Scotland
by Paul Schulties 13/07/2016
Pre-Trip Service

Trip Comments

Accommodation and Food

Your Guide
David provided great thought in planning our trips and enormous effort and interest in the execution of the day trips. Very knowledgeable, helpful and considerate.
The Bottom Line
The trip challenged us and rewarded us with a fabulous experience.
by Cathy Etchepare 12/07/2016
Pre-Trip Service
The Scotish landscape is wonderful however the waether was not so good.
Trip Comments
À very good organisation , the punctuuality is appreciable.
Accommodation and Food
The food was very good and the room of restaurant charming . Food copious with with a staff availlable and smiling always
Your Guide
A self guide trip is not possible because without paths , It´s realy dificult to find the good orientation. Using compass is necessary.
The Bottom Line
I think that I'll repeat this expérience and give your adress at everyone.
by Kirk Forrest 08/07/2016
Pre-Trip Service
A pre-book period of up to 7 days would be helpful, particularly when trying to coordinate a WS holiday with other activities. Give me a call if you don't understand.
Trip Comments
I had to come home early from Knoydart for family reasons. Despite being rather isolated it was arranged quickly and without fuss by Dave and Andy. I really appreciated this. The walking - strenuous, but good.
Accommodation and Food
I have walked in Scotland with other companies. Doune was by far and away superior to anything I had previously experienced and very enjoyable.
Your Guide
Dave - he's probably the best you have!
The Bottom Line
Excellent
by Katherine Edwards 05/07/2016
Pre-Trip Service
Excellent guide, great walks , & good food
Trip Comments

Accommodation and Food
Food was excellent, varied & everything was home made - what a treat - communal areas would have been a squeeze if our group was a full compliment - showering, was an exercise in economical use of movement !
Your Guide
Well done , Dave . Excellent guide , attention to detail & professionalism in every aspect of our trip , great knowledge & great camaraderie amongst every person in the group & with every person who was involved in making the trip a success .
The Bottom Line
Always professional , with the best guides in the adventure business .
Prices and Departures
104 people viewed this trip in the last week
1 Booking in the last 72 hours
Book with confidence - we guaranteee our trips to run as soon as 2 people book.
Trip Date
Price
Availability
Trip Status
10th Sep - 17th Sep 2016
£1,295
Trip Full
22nd Apr - 29th Apr 2017
£1,295
Places available
6th May - 13th May 2017
£1,295
3 place(s) left
24th Jun - 1st Jul 2017
£1,295
Places available
22nd Jul - 29th Jul 2017
£1,295
Places available
12th Aug - 19th Aug 2017
£1,295
Places available
9th Sep - 16th Sep 2017
£1,295
Places available
Trip Details
Often described as the last wilderness in Scotland, the Knoydart peninsula has an island feel about it.
Isolated from the rest of the Western Highlands by the 'rough bounds' and a notorious strip of mountainous terrain it provides a challenge to even the most intrepid.
For this reason, Knoydart has always been best accessed by boat and from our base at a remote wilderness lodge we make full use of the sea, making passages to Skye, the Small Isles and other corners of the peninsula, often encountering whales, dolphins and porpoises before we even begin the day's walk.
For this we use the fast boat, 'Mary Doune', allowing us to enjoy tremendous linear walks over mountain passes and giving access to the Small Isles of Rum and Eigg, notable for their variety and distinctive landscapes and history. This combination of wilderness, remarkable mountains and a plethora of wildlife, make for an unforgettable holiday.
Trip Itinerary
Day 1 – We meet in Mallaig, which is easily reached by car or train via the spectacular West Highland Line. A short transfer by boat takes us to our base at Doune on the very tip of the Knoydart Peninsula.
Day 2 – We explore some rarely visited lower hills in western Knoydart, and explore the beautiful coastline around Airor. Leaving directly from the door of the lodge, we hike into the Black Hills, possibly towards the rocky summit of Roine na Beinne.
Distance 14km, 7hrs.
Day 3 – The goal for the day is the highest point on the island of Eigg, An Sgurr – a dramatic plug of columnar pitchstone, rising abruptly from wild moorlands. The summit boasts fine views over this beautiful island, and the nearby emerald wedge of Muck.
Distance 8km, 4hrs.
Day 4 – This fantastic walk traverses the Knoydart peninsula from north to south, finishing at the most remote pub in Scotland! The normal route we follow takes a good path up to the Mam Barrisdale col at 450m before enjoying a long descent down Glean an Dubh-Lochain to Inverie.
Distance 14km, 6hrs.
Day 5 – Using the 'Mary Doune', we speed across the Sound of Sleat towards Rum. We may traverse this wild and beautiful island or climb one of the dramatic peaks in the Rum Cuillin. Late afternoon, we are whisked back to Doune in time for dinner.
Distance 10km, 5hrs.
Day 6 – Our final island visit takes us into the heart of the Cuillin mountains on Skye. We circle the shores of Loch Coruisk, surrounded by towering rocky peaks. If time permits, we may hop over to Canna to complete our tour of the Small Isles,
Distance 11km, 5hrs.
Day 7 – The peak of Sgurr Coire Choinnichean rises up behind Inverie village. From its summit, the views to Inverie Bay below us and over the sea to Skye are outstanding. It's a wonderful point from where we can admire the whole peninsula and reflect on our week in Knoydart.
Distance 10km, 5hrs.
Day 8 – Following a relaxed breakfast, we board the launch boat and, keeping our eyes open for Minke Whales which are often spotted in these waters, return to Mallaig. For those travelling by rail, we arrive in Mallaig in time to catch the mid-morning train back to Glasgow.
Call Your Adventure Consultant Now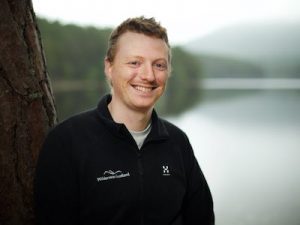 Speak to the Team
Call or message. Get straight through to a local expert in the Highlands of Scotland.
Phone
Prices and Departures
104 people viewed this trip in the last week
1 Booking in the last 72 hours
Book with confidence - we guaranteee our trips to run as soon as 2 people book.
Trip Date
Price
Availability
Trip Status
10th Sep - 17th Sep 2016
£1,295
Trip Full
22nd Apr - 29th Apr 2017
£1,295
Places available
6th May - 13th May 2017
£1,295
3 place(s) left
24th Jun - 1st Jul 2017
£1,295
Places available
22nd Jul - 29th Jul 2017
£1,295
Places available
12th Aug - 19th Aug 2017
£1,295
Places available
9th Sep - 16th Sep 2017
£1,295
Places available