Paddle through tranquil pine forests and Scotland's most famous whisky region as you journey the length of the River Spey
Experience a diverse range of river conditions, from gentle meanders to more challenging rapids towards the end of the trip
Enjoy a true wilderness experience camping under the stars
Blue Graded Open Canoeing Holidays 4-6
The Great Glen Canoe Trail is still suitable for people with no previous experience. However, a reasonable level of fitness is required.
For the River Spey Descent and the Whisky Trail previous canoeing experience is required as we will experience some sections of more challenging rapids, a good level of general fitness is also required for these trips.
For all Blue Graded canoe trips you can expect up to 7 hours of paddling each day with plenty of breaks.
These trips generally involve being further away from civilisation with multi-day wild camping.
Before joining this trip, the questions you should be asking yourself are:
Do you have a reasonable level of fitness?
Are you happy camping under the stars for a few nights?
Accommodation
On our Open Canoeing expeditions, we camp in spectacular locations near the waterway on which we have travelled. Our tents are single tents unless you are travelling with a partner or in a group and would like a tent to share. Our single tents are two-man size and we use three-man tents for sharing.
We also carry a base camp tent, which means that we can all gather together for dinner and a hot drink even if the weather is inclement.
Food
While the leader will co-ordinate and undertake as much of the cooking as possible on the trip, everyone is expected to help out as this ensures the best meals in the shortest possible time after what are often long days in the mountains.
Fine food is essential to all our trips and expeditions are no different. Using Open Canoes, we are less constrained by weight and therefore have the opportunity to carry food which we would be unable to take on a walking expedition. The scope for imaginative and original meals is therefore enhanced and we will prepare these over our base-camp style dual burner stove and often over an open fire.
You will be met by your Wilderness Scotland Guide in the Waiting Room at Aviemore Railway Station at 10:00 on Day 1. For full details on how to get to Aviemore, please see our website: Travel to Scotland.
Customer Kudos
Every client receives a feedback survey when they return from their guided, self guided or tailor made holiday with us.
Once completed the review is published on our website just as soon as our database updates. The little touches and details are important to us and where issues are raised we make positive changes to our trips to improve your experience.
That's why we read each of our client's reviews and although we don't respond to all of them, if it's glowing feedback then we get the satisfaction of helping to make your holidays truly memorable.
by Steve Harrison 22/09/2016
Pre-Trip Service
Website where payment actually worked
Trip Comments

Accommodation and Food
Given the nature of trip this aspect was well thought out and excellent.
Your Guide
Both guides where first class and we would happily do further trips with them.
The Bottom Line
Trip excellent Guides excellent will do again definately
by Dominic Batten 22/09/2016
Pre-Trip Service

Trip Comments
Equipment and guiding is always good with Wilderness Scotland and I always feel I'm getting the best out of what the area offers. Capsizing was the highlight of the trip for me, my only regret is not spending more time in rather than on the River Spey - the water is very pleasant at this time of year.
Accommodation and Food
I've reached an age when the discomfort of camping isn't much fun any more. Loads of food and it was all good especially the haggis.
Your Guide
Two knowledgable guides. Biscuit's relentless enthusiasm and capacity for distributing unmerited praise combined with John's more phlegmatic approach and devotiion to the stove made for a good balance
The Bottom Line
Definitely a classic trip, shame it wasn't longer. By the last day I felt I had some control over the canoe. It was good to find that rapids are just as much fun going backwards
by Trond Larsen 15/09/2016
Pre-Trip Service
Good and informed contact prior to trip.Maybe advice for those who haven't camped in awhile.. Invest in a good mattress that's comfortable and easy to transport.. Some warm clothing for sleeping in.
Trip Comments
Although never having met the rest of the people we traveled with it didn't take long for us to bond as a team on and off the water.. Really great guides in Biscuit and John.. Helped us all the way
Accommodation and Food
Tent was a bit smaller than I expected as we are two big blokes but we managed and I understand the need to keep it compact.. The food was plentiful , but only got one snack bag on the first day? I'd brought my own snacks so managed for the rest of the trip.

TEAM WILDERNESS RESPONSE:

Thanks so much for your feedback, I'm sorry about the confusion with the snack pack, there should have been 5 chocolate or muesli bars in the bag that were to last the trip and then you do have to top the bag up with fruit/nuts - or more chocolate - each day. I'm sorry if this wasn't clear.
Your Guide
Couldn't heap enough praise on these two (Biscuit & John) handled the group really well with great instruction on the canoes, and the cooking skills not bad either
The Bottom Line
We were blessed with good weather, wonderful nature, excitement, and good cameradrie wouldn't hesitate to recommend this team and the trip itself.
by Siobhan Cherrie 15/09/2016
Pre-Trip Service

Trip Comments

Accommodation and Food
Food was excellent. Good varied menu and plentiful supply. Loved the picnic lunches in the sun. Tent was good size and quality.
Your Guide
Biscuit and John were fantastic. Excellent instruction throughout the trip. Both lovely guys with an abundance of knowledge.
The Bottom Line
An excellent trip. Fun and exciting. Great guides and a lovely group of like minded people to share the experience with.
by Robert Cherrie 15/09/2016
Pre-Trip Service
Professionalism of the team
Trip Comments
The guides Biscuit and John were excellent. Great guides and fantastic cooks. Couldn't have made the trip without them
Accommodation and Food
Great food
Your Guide
Very professional. Learnt a lot
The Bottom Line
Fantastic trip from beginning till the end. Would highly recommend
by Simon Haigh 15/09/2016
Pre-Trip Service

Trip Comments

Accommodation and Food

Your Guide

The Bottom Line

by Jane Hague 14/07/2016
Pre-Trip Service

Trip Comments
The rapids were great fun even though there was some loss of control at times and being greeted by two seals in Spey Bay at the end of our journey was a real treat.
Accommodation and Food
Excellent food, meals produced very efficiently from well prepared set of ingredients.
My tent was a little small for coping with a lot of wet gear and wet weather.
Your Guide
Biscuit and Ed were brilliant. Highly competent, made us feel confident, giving appropriate instruction as we were ready for it on the way, and lots of interesting information about the area we were passing through.
The Bottom Line
An excellent trip, very well planned to make the most of every day without being too tiring.
by Eric Joiner 26/05/2016
Pre-Trip Service
Kept in contact regarding our trip providing phone number for our guide.
Trip Comments
The whole trip was excellent. Well planned yet our guides were flexible and willing to go with the flow.
Accommodation and Food
Still can't believe what you can do with a petrol stove and a frying pan. Food was excellent and there was plenty of it. The frequent coffee brakes were also very welcome.
Your Guide
Couldn't ask any more of Biscuit and Jason. Both VERY knowledgeable and brilliant teachers. At the same time made the trip fun and were always up for a laugh
The Bottom Line
We set out in this trip with no real skills on the water. By the end of our trip we have all fallen in love with paddling and also the location. We'll definately be back. Thanks again to Biscuit and Jason for making the whole experience just perfect! !!!
by Neil Sutherland 26/05/2016
Pre-Trip Service

Trip Comments

Accommodation and Food

Your Guide
Biscuit and Jason are a credit to your organisation, they took 4 guys who had no real experience and taught us so much in a way that was fun. I felt as if it was the 6 amigos right from the start and I can honestly say that it was a pleasure to spend the time on the Spey and in the tepee with them, Thanks so much
The Bottom Line
No matter how little or how much experience you have before you start paddling down the Spey I can say that you will have so much fun that you won't want to go home. Give it a try!!!!
by Martin Taylor 04/10/2015
Pre-Trip Service
Very efficient and friendly as always.
Trip Comments
Great canoeing, great company, great guides, great food.
Accommodation and Food
Wonderful food as always.
Your Guide
Wonderful guides. Great company and looked after us extremely well
The Bottom Line
Great trip, would recommend to anyone.
Prices and Departures
47 people viewed this trip in the last week
2 Bookings in the last 72 hours
Book with confidence - we guaranteee our trips to run as soon as 2 people book.
Trip Details
Join us for a classic Scottish canoeing trip down the River Spey, as we paddle through Speyside in the scenic North East Highlands.
This wonderful Scottish river trip descends the famous River Spey passing a through pine forests, heather-covered hills and Scotland's most celebrated whisky region.
The canoeing is easy at first but becomes more challenging as we travel downstream through several rapids. It is not just the character of the river which changes – the pine forests take on a new character with each season. These forests are home to a diverse range of wildlife including red deer and capercaillie, and there's always the chance of spotting golden eagles and other large birds of prey overhead.
Trip Itinerary
Day 1 – The expedition begins!
Our canoe guide meets you at the railway station in Aviemore and we transfer to our put-in point, a short distance away. We cast off down the gently moving water learning a few paddle strokes as we journey down the river to our first night's camp. (L, D)
Day 2 –Boat of Balliefurth to Blacksboat
Following breakfast, we paddle into the heart of malt whisky country. There is time to work on the open canoe skills which will be essential for negotiating the rapids which lie ahead in the second half of the journey. Indeed, the day finishes with a trip through the short rapid known as the 'Washing Machine' before we reach our next camp. (B, L, D)
Day 3 – Blacksboat to Craigellachie
Our rapid-running skills are tested to the full as we meet unforgettable rapids such as the Station Pool of Knockando and numerous shorter rapids. After an exhilarating day of paddling, we camp near the mouth of the River Fiddich. (B, L, D)
Day 4– Craigellachie to Spey Bay
Under the shadow of Ben Aigan, we spend the morning descending through the Rothes Glens to the beautiful river pools at Delfur. As the River Spey gathers speed in its race to the sea, we round the many bends that lead through the coastal plain to our journey's end at Spey Bay. At the end of the journey, you are transferred back to Aviemore Railway Station where the trip ends. (B, L)
Call Your Adventure Consultant Now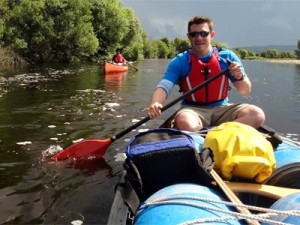 Speak to the Team
Call or message. Get straight through to a local expert in the Highlands of Scotland.
Phone
Prices and Departures
47 people viewed this trip in the last week
2 Bookings in the last 72 hours
Book with confidence - we guaranteee our trips to run as soon as 2 people book.