Paddle through tranquil pine forests and Scotland's most famous whisky region as you journey the length of the River Spey
Experience a diverse range of river conditions, from gentle meanders to more challenging rapids towards the end of the trip
Enjoy a true wilderness experience camping under the stars
Blue Graded Open Canoeing Holidays 4-6
The Great Glen Canoe Trail is still suitable for people with no previous experience. However, a reasonable level of fitness is required.
For the River Spey Descent and the Whisky Trail previous canoeing experience is required as we will experience some sections of more challenging rapids, a good level of general fitness is also required for these trips.
For all Blue Graded canoe trips you can expect up to 7 hours of paddling each day with plenty of breaks.
These trips generally involve being further away from civilisation with multi-day wild camping.
Before joining this trip, the questions you should be asking yourself are:
Do you have a reasonable level of fitness?
Are you happy camping under the stars for a few nights?
On the River Spey Descent canoe trip we camp in peaceful locations on the river bank. Our tents are single tents unless you are travelling with a partner or in a group and would like a two/three man tent to share. We also carry a base camp tent, which means that we can all gather together for dinner or a hot drink if the weather is inclement!
You will be met by your Wilderness Scotland Guide in the Waiting Room at Aviemore Railway Station at 10:00 on Day 1. For full details on how to get to Aviemore, please see our website: Travel to Scotland.
Customer Kudos
Every client receives a feedback survey when they return from their guided, self guided or tailor made holiday with us.
Once completed the review is published on our website just as soon as our database updates. The little touches and details are important to us and where issues are raised we make positive changes to our trips to improve your experience.
That's why we read each of our client's reviews and although we don't respond to all of them, if it's glowing feedback then we get the satisfaction of helping to make your holidays truly memorable.
by Jane Hague 14/07/2016
Pre-Trip Service

Trip Comments
The rapids were great fun even though there was some loss of control at times and being greeted by two seals in Spey Bay at the end of our journey was a real treat.
Accommodation and Food
Excellent food, meals produced very efficiently from well prepared set of ingredients.
My tent was a little small for coping with a lot of wet gear and wet weather.
Your Guide
Biscuit and Ed were brilliant. Highly competent, made us feel confident, giving appropriate instruction as we were ready for it on the way, and lots of interesting information about the area we were passing through.
The Bottom Line
An excellent trip, very well planned to make the most of every day without being too tiring.
by Eric Joiner 26/05/2016
Pre-Trip Service
Kept in contact regarding our trip providing phone number for our guide.
Trip Comments
The whole trip was excellent. Well planned yet our guides were flexible and willing to go with the flow.
Accommodation and Food
Still can't believe what you can do with a petrol stove and a frying pan. Food was excellent and there was plenty of it. The frequent coffee brakes were also very welcome.
Your Guide
Couldn't ask any more of Biscuit and Jason. Both VERY knowledgeable and brilliant teachers. At the same time made the trip fun and were always up for a laugh
The Bottom Line
We set out in this trip with no real skills on the water. By the end of our trip we have all fallen in love with paddling and also the location. We'll definately be back. Thanks again to Biscuit and Jason for making the whole experience just perfect! !!!
by Neil Sutherland 26/05/2016
Pre-Trip Service

Trip Comments

Accommodation and Food

Your Guide
Biscuit and Jason are a credit to your organisation, they took 4 guys who had no real experience and taught us so much in a way that was fun. I felt as if it was the 6 amigos right from the start and I can honestly say that it was a pleasure to spend the time on the Spey and in the tepee with them, Thanks so much
The Bottom Line
No matter how little or how much experience you have before you start paddling down the Spey I can say that you will have so much fun that you won't want to go home. Give it a try!!!!
by Martin Taylor 04/10/2015
Pre-Trip Service
Very efficient and friendly as always.
Trip Comments
Great canoeing, great company, great guides, great food.
Accommodation and Food
Wonderful food as always.
Your Guide
Wonderful guides. Great company and looked after us extremely well
The Bottom Line
Great trip, would recommend to anyone.
by Karen Bennett 24/09/2015
Pre-Trip Service

Trip Comments
Four days felt like a fortnight's holiday within an instant. Went from work to sleeper train to Aviemore, then a quick hop around the corner in the van and within the hour we were on the water and our little adventure had begun - relaxing, fun, fresh, exhilarating (and on occasion soaking) with an ever-changing magnificent backdrop - complete escape. Sunshine too.
Accommodation and Food
Great - a happy camp in every way. Pancakes for breakfast, Moroccan stew, and homemade flapjacks the highlights.
Your Guide
Mark and Fred were brilliant throughout. Good company and great guides - easy to see how alert they were to the conditions on the river for us, and considerate to others using it. And more than there when we needed them on the last day when a few of us happened to park accidentally on a rock in a rapid and go for a swim down the river - briefings beforehand, reminders along the way, and how they dealt with us and the canoes so swiftly and calmly meant not a moment of worry at any stage. The made the trip - thank you.
The Bottom Line
I would do this trip again in a heartbeat - loved every second and can't think of a better way to get a blast of fresh air and recharge batteries in just a few days. Wilderness Scotland - the trips, the guides, the guests - unbeatable.
by Graham Clay 17/09/2015
Pre-Trip Service
An all round great adventure. Very well organised and exceeded out expectations. Fantastic guides and great company with othe like minded travellers who were great to meet for the first time and had a fabulous common interest in malt whiskers of the region.
Trip Comments
Great communication thought and very responsive to queries
Accommodation and Food
This isn't 5* accommodation but if your booking this trip you shouldn't be expecting that. The accommodation was great in some lovely secluded areas. Food was very good throughout, tasty and plentifull. Amazing what can be produced from a 2 ring burner
Your Guide
Mark and Fred were fantastic guides. As beginners to river canoeing it was great to have such competent guides who helped us down the river without taking away our personal experience of the expedition we really challenged them on the last day and their experience shone through. Had a great laugh with th throughout the trip
The Bottom Line
An overall great experience. This felt to us to be proper adventuring with the safety net of capable guies
by Christine Clay 17/09/2015
Pre-Trip Service

Trip Comments

Accommodation and Food

Your Guide

The Bottom Line

by Scott Moncur 17/09/2015
Pre-Trip Service
I received everything I needed. Not sure what excellent is that would be justifiable as a cost. That is the only reason that I cant suggest improvement.
Trip Comments
Trip delivered everything I was hoping for.
Accommodation and Food
Being flexible on accomodation used is a big tick. Food as usual wholesome filling and tasty.
Your Guide
Inspired confidence. Good fun. Both of them.
The Bottom Line
A well known brewery could not do trips better than wilderness scotland
by David Russo 19/08/2015
Pre-Trip Service
fantastic trip. Excellent instructors, well organised, breath-taking scenery mixed with some moments of trepidation to keep things exciting. A real experience.
Trip Comments

Accommodation and Food

Your Guide

The Bottom Line

by Jon Herring 12/07/2015
Pre-Trip Service

Trip Comments

Accommodation and Food

Your Guide

The Bottom Line

Prices and Departures
79 people viewed this trip in the last week
Book with confidence - we guaranteee our trips to run as soon as 2 people book.
Trip Date
Price
Availability
Trip Status
9th Sep - 12th Sep 2016
£595
Trip Full
28th Apr - 1st May 2017
£595
Places available
30th Jun - 3rd Jul 2017
£595
Places available
8th Sep - 11th Sep 2017
£595
Places available
Trip Details
Join us for a classic Scottish canoeing trip down the River Spey, as we paddle through Speyside in the scenic North East Highlands.
This wonderful Scottish river trip descends the famous River Spey passing a through pine forests, heather-covered hills and Scotland's most celebrated whisky region.
The canoeing is easy at first but becomes more challenging as we travel downstream through several rapids. It is not just the character of the river which changes – the pine forests take on a new character with each season. These forests are home to a diverse range of wildlife including red deer and capercaillie, and there's always the chance of spotting golden eagles and other large birds of prey overhead.
Trip Itinerary
Day 1 – Canoeing on the River Spey: The expedition begins!
Our canoe guide meets you at the railway station in Aviemore and we transfer to our put-in point, a short distance away. We cast off down the gently moving water learning a few paddle strokes as we journey down the river to our first night's camp.
Day 2 – Canoeing the Spey: Boat of Balliefurth to Blacksboat
Following breakfast, we paddle into the heart of malt whisky country. There is time to work on the open canoe skills which will be essential for negotiating the rapids which lie ahead in the second half of the journey. Indeed, the day finishes with a trip through the short rapid known as the 'Washing Machine' before we reach our next camp.
Day 3 – Canoeing on the Spey: Blacksboat to Craigellachie
Our rapid-running skills are tested to the full as we meet unforgettable rapids such as the Station Pool of Knockando and numerous shorter rapids. After an exhilarating day of paddling, we camp near the mouth of the River Fiddich.
Day 4– Canoeing on the Spey: Craigellachie to Spey Bay
Under the shadow of Ben Aigan, we spend the morning descending through the Rothes Glens to the beautiful river pools at Delfur. As the River Spey gathers speed in its race to the sea, we round the many bends that lead through the coastal plain to our journey's end at Spey Bay. At the end of the journey, you are transferred back to Aviemore Railway Station where the trip ends.
Call Your Adventure Consultant Now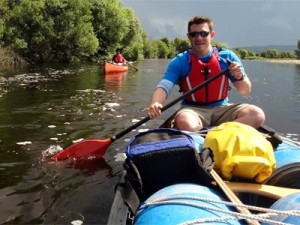 Speak to the Team
Call or message. Get straight through to a local expert in the Highlands of Scotland.
Phone
Prices and Departures
79 people viewed this trip in the last week
Book with confidence - we guaranteee our trips to run as soon as 2 people book.