Top footwear advice.
If I had a pound for every time I have been asked for advice on the best footwear for hiking in Scotland, I'd be a rich man.
Each hiking trip and location will bring different factors to consider but the most important will always be safety and comfort. So what footwear do you need to hike in Scotland?
Durable for rugged terrain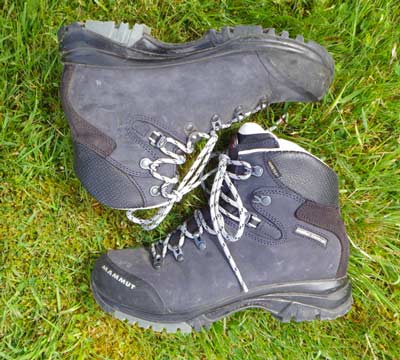 In the Scottish Highlands the terrain is pretty rugged and we often go off the trails and over rough, uneven and sometimes wet ground. Never underestimate the importance of keeping your feet dry, warm and comfortable.
Most of our walking trips are a week long so you need to ensure that your feet are well protected from the elements and your boots will keep you upright on slippy trails. Scottish weather is renown for offering up four seasons in one day so be prepared with good waterproof boots and you'll never have soggy feet.
We offer a range of trips but even on our easy trips you are likely to encounter wet and rocky terrain so good ankle support and waterproofing are musts. We're adamant about finding the best views for you and sometimes that means a little bit of extra effort through muddy terrain to gain access to them but it will all be worth it – we promise!