Top 5 Most Dramatic Walks in the Highlands
Posted on Feb 24, 2015 by Luke Partridge
The Scottish mountains may not have the height of their Alpine cousins, but what they lack in altitude they more than make up for with grandeur.

No matter how much time I spend walking in the highlands, I'm never let down by the mind-blowing views and sense of wilderness that these incredible mountains offer.
Here's my Top five most dramatic walks in the Highlands of Scotland (in no particular order!):
1. The Saddle, Kintail
The saddle is one of the few Scottish mountains to be regularly known by it's English translation. It's a highly sought after "Munro" and a fine addition to any hillwalkers log book.
The saddle gains it's spot in my top five due to the ridge line connecting the Saddle and it's neighbouring top, Meallan Odhar, known as the Forcan Ridge. This ridgeline offers a challenging grade 1/2 scramble, with lots of exposure for those with a head for heights to enjoy. For others, however, an opt-out path exists avoiding the technicalities, whilst retaining the character of the mountain.
*It's always important to consider some easy ways to stay safe outdoors when taking on a new route with some challenging sections.
2. Ben Alligin, Torridon.
Ben Alligin is one of my favourite mountain walks in Scotland. It's located in one of the most dramatic locations, Torridon. It's Gaelic name translates to "Jewel Mountain". Perhaps beautiful mountain would be a more pragmatic translation. It's easy to see why.
You start at only 50m above sea level and with the highest point being 986m; this is a walk that is sure to get your heart pumping! But the ascent isn't the only thing to raise your pulse. Ben Alligin offers some of the most stunning scenery in the Highlands. On a clear day the views are as far as the Outer Hebrides. The "Horns of Alligin" offer grade 1/2 scrambling. But again this can be avoided easily without detracting from the experience.
Find out more about the Torridon area: Fascinating Facts from the Torridon and Applecross Area
3. The Fisherfields Round, Fisherfield Forest.

Is this perhaps the ultimate wilderness walk in the Highlands? The Fisherfields are also known as "the great wilderness". This walk takes in a group of no less than five munros and a Corbett (formerly a munro!) which lie in the heart of this rugged expanse. Starting from a bothy named Shenevall which lies at the foot of the neighbouring An Teallach (a mountain for those seeking a more technical adventure) the round is normally tackled in a clockwise fashion taking in Bein a Chlaidheimh, Sgurr Ban, Mullach Coire Mhic Fhearchair, Beinn Tarsuinn, A'Mhaighdean and Ruadh Stac Mor to complete this horse shoe, before returning back to the bothy. Due to the length and nature of this walk it's often split into two days with a wildcamp in the middle, but with Shenevall offering a great base it can also be tackled in one long day.
If you are going for a multi-day hike it can be difficult to decide what to pack. Wilderness Guide Jonathan Willet has had plenty of practice and has created a shortlist with some essentials to bring on a multi-day hike.
4. The Ring of Steall, Mamores.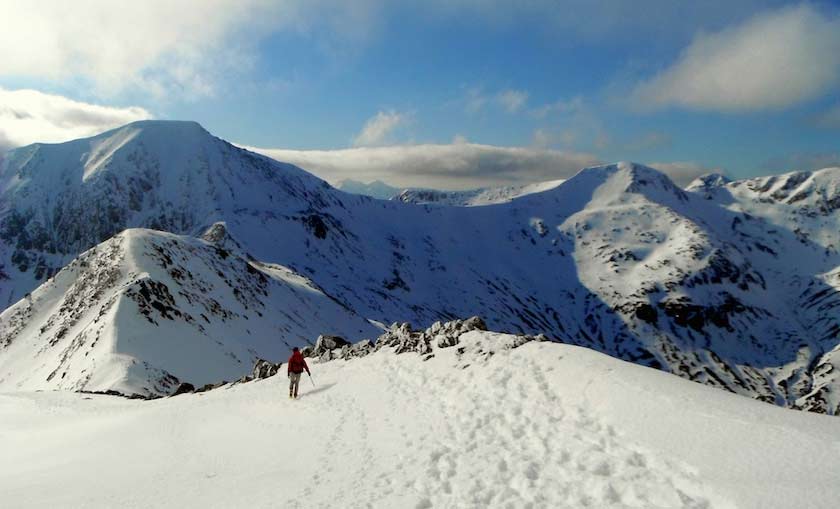 This circuit is another walk for ambitious "Munro baggers" taking in four mountains that sit over the 3000 feet threshold high enough to qualify them for this lofty title.
Starting in Glen Nevis, at the foot of Britain's highest peak, Ben Nevis, you follow the river into the hills. The falls of Steal are one of the most impressive views in the highlands and at 120m high it is Scotland's highest waterfall with a single drop. Whilst the route has no technical difficulties as such, there are some very narrow sections of rocky ridgeline to negotiate, which only add to the feeling of grandeur.
Not sure about the difference between Munros, Corbetts and Grahamas? Find out here.
5. Suliven, Assynt.

This truly unique mountain rises almost vertically from sea level in a great fin, like shape. Nick-named the "2d Mountain" and resembling a toblerone, this hill offers incredible an vista and a truly magnificent day out. Whilst it is often climbed approaching from the west near Lochinver, I'd highly recommend the long walk in from the east, through wild and rugged terrain, for a truly wilderness feel to the day.
There are many lines of ascent, from straight forward yet steep, to technical climbing and scrambling.
Be prepared for longer walks which are trickier to navigate with 5 tips on how NOT to get lost.
What do you think of our Top 5 Most Dramatic Walks in the Highlands list?
Like this post? Read Top 5 Epic Scottish Landscapes
Add your comments
---
More from
Wilderness Walking