Tailor Made Holidays
The personal service to create your tailored dream holiday.
Our tailor-made holiday service caters for private groups of all sizes and budgets to enjoy a bespoke holiday in the Highlands and Islands of Scotland.
This service allows us to organise your dream holiday on your terms. We love the opportunity to use our knowledge, expertise and experience to design and deliver the perfect and unique holiday experience for you. So even if you just have an inkling of an idea, please drop us a line as the earlier we can start planning, the more personalised we can be!
Wilderness Scotland Tailor Made Holidays – Our Approach
Let's talk! You will have a dedicated expert travel designer to help you create the trip of your dreams
Getting creative! We'll design an innovative itinerary for you, building in superb accommodation, activities and experiences.
Follow your passions! We can build your trip around a theme such as whisky adventures, ancient castles or Scottish culture with a range of activities suitable for all.
Let's do it! Once we have agreed an itinerary and price for your trip, we take a 25% deposit and confirm all arrangements on your preferred travel dates.
Enjoy! When the time comes, our expert guides will lead on your dream Scottish holiday, backed up by our full-time office team.
Get Inspired!
Some examples of the kind of experiences we have created in the past.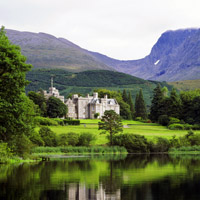 Highland Castle Break
We work with a number of exclusive Highland castles, sleeping 8 to 30 people. Escape for a long weekend or spend a week living like kings. As well as the accommodation, our expert guides will fill your days with activities such as sea kayaking, canoeing, guided walks and more.
Luxury Yacht Charter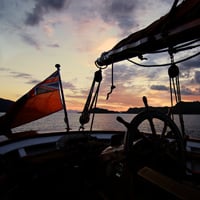 We have access to a number of exclusive yachts for private charter. Chartering a sailing yacht, with an experienced skipper, chef and a walking guide on board is a magnificent way to explore Scotland's west coast and islands. You will be accessing remote bays, endless white sandy beaches and hills to explore, often sharing these locations with just the local wildlife.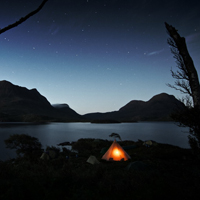 Luxury Camping
Get into the real wilderness in style. You will camp wild, far from any facilities, with the help of our expert guides and support team. The camps may use Mongolian-style yurts or traditional mountain tents but you'll enjoy fantastic meals and amazing wilderness experiences in style.
Describe Your Dream and We'll Make it Come to Life!
Final trip price will vary depending on a number of factors including group size, standard of accommodation and activity inclusions but it is useful for us to know which budget range you fall into when creating a bespoke itinerary.
Why choose Tailor Made for your holiday?
Perhaps you like an itinerary but the dates don't work for you. No problem! We can run it just for you as a private departure, perhaps customising some elements of it, such as upgraded accommodation. Maybe you are travelling with friends or family and would prefer the intimacy and flexibility of a private trip. Or maybe you just want to tap into our expertise and have us create a truly magical holiday, just for you. We can also deliver outstanding experiences for corporate groups. Simply contact us and we'll get to work!
Wilderness Scotland tailor made holidays are available for any group size. Small groups (less than 4 people) share fixed costs (such as guides and transfers) across fewer people so the per person cost tends to be higher with smaller groups. However, smaller groups benefit from a more personal service, so it is still good value for money.
Destinations

Wilderness Scotland operates all across the country, from the islands of Shetland and Orkney in the north, the Cairngorms National Park in the east, the Outer Hebrides and St Kilda in the west right down to the Trossachs and the Scottish Borders in the south.
We work with a number of luxury accommodation partners in each area, so if there is a particular place you wish to visit, do let us know and we can design your itinerary accordingly.
Tailor Made Trip Reviews
15WSTM Tailor Made trips
by Diane Lasley 01/08/2015
Pre-Trip Service
I actually had nothing to do with the planning
Trip Comments

Accommodation and Food

Your Guide
Peter was great. He was able to deal with the diversity in ages of the group with a calm and gentle spirit and sense of humor It was sometimes like herding cats. His knowledge of the areas we traveled was amazing.
The Bottom Line
The experience was "the best". We did a lot in a short time, but never felt rushed. I would certainly recommend your company and Peter to anyone planning a trip to Scotland. Thank you!
15WSTM Tailor Made trips
by Gary Matloff 01/08/2015
Pre-Trip Service
Rachael was always super responsive to our needs, professional, and a delight to speak with.
Trip Comments
Honestly, as much as everything was well planned, etc., we owe that added specialness to our guide, Peter Grant. He was amazing in every way in how he was responsive to our varied needs, a delight to engage every day, and wonderfully patient, humorous, and personable.
Accommodation and Food
The Abbey Hotel was not our biggest thrill (although the back garden and walled park complex, as well as overall location was cool) - a little dirty (moldy ceiling) and the woman front desk was a wee bit strange (brash at times). St. Anthony's and Ravenscreig were great, although St. Anthony's could have been a wee bit more flexible (wouldn't give us a regular breakfast a half hour earlier and the two days in a row we needed the cold breakfast, nothing was replenished for the second day). The Bosseville hotel was okay, but one of our rooms was over the bar and it was very noisy until after midnight - but, excellent breakfasts - yet, their packed lunch was extremely subpar - just tomato lettuce and a smear of something eggy on bread with crisps and fruit.
Your Guide
Peter Grant endeared us to him from the start. He truly made our trip "special" and we looked forward to being with him every day. He was wonderfully personable, had a fun, humorous side, very gentle in spirit, and overall fascinating with whom to converse.
The Bottom Line
We had a wonderful family vacation - that's what it truly was all about for us. Last year, we took a Disney cruise around the Greek Isles, and it was nowhere near as fulfilling of a familial bonding experience as our trip with Wilderness Scotland.

TEAM WILDERNESS RESPONSE:
Thank you for your valuable comments. What a wonderful endorsement for a family holiday- thank you.
15WSTM Tailor Made trips
by Jon Levin 01/08/2015
Pre-Trip Service
Very easy to work with Stevie Christie, who provided a lot of useful information and helped customize the trip.
Trip Comments
We had three terrific guides - Myles Farnbank, Craig Tweedie and Dave Picken. They were super in terms of finding the right mix of cycling and other activities for our group (which included three generations and five kids ranging in age from 5 to 11). The Hebrides were beautiful!
Accommodation and Food
Very nice hotels, good food. Picnic lunches were a particular highlight.
Your Guide
Craig, Myles and Dave were terrific!
The Bottom Line
Great!
15WSTM Tailor Made trips
by Deborah Lasley 01/08/2015
Pre-Trip Service
Everything was great! The time difference in Scotland from Colorado was a challenge, but difficult to change that.
Trip Comments
Peter Grant, our guide, was personable and cheerful! He had a tough job having to manage the interests of a diversified group- age 13 to 80! He really made our trip special.
Accommodation and Food
I would not stay at the Abbey Hotel in Edinburgh again. The rooms were very small and some of the staff were a bit sharp. Our lunch provided from the Bosville Hotel in Portree was really marginal after having such a lovely lunch from the deli in Fort William. The breakfasts were always yummy, except the inflexible times at Saint Andrew's. In all, we were quite pleased with the B&B experience.
Your Guide
Peter Grant was just superb! Ben and Stuart with the Rockhopper kayak trip were cheerful and managed us in some rough seas. Kyle was a very bubbly personality for archery.
The Bottom Line
The trip was great. The weather was better than I expected. I would definitely schedule in a rest day or half day of rest for an active schedule. I am a very early riser, so I would have been out and about by 7am and had the afternoon to rest, but it didn't work well with my group. I would have declined the gorge swimming on the roster if I had known the average water temp in Aviemore pre-booking. As it was I paid for the adventure in advance and did not go. I would have also skipped the archery and spent longer on the bikes. I have already recommended your company to several of my colleagues at work. Cheers!

WILDERNESS SCOTLAND RESPONSE:

Thank you for your comments, which are very useful in improving our Tailor made trips for the future. We hope to welcome you back to the Highlands soon.
15WSTM Tailor Made trips
by Maria Fernandez-Gimenez 13/07/2015
Pre-Trip Service

Trip Comments
Great itinerary that combined cycling through a variety of landscapes with seeing key cultural sights. Accomodations were spotless, comfortable and very friendly and our guide Ross did all he could to cater to our interests.
Accommodation and Food

Your Guide
Ross did lots of on the spot research to tailor the trip on the go, and was great at checking the weather conditions and adapting the itinerary accordingly. He was great company and very knowledgable about cycling and all sorts of outdoor pursuits.
The Bottom Line
Our first experience with a tailor made trip. Definitely worth it!