Tailor Made Adventure Holidays
The personal service to create your tailored dream holiday.
Our tailor-made holiday service caters for private groups of all sizes and budgets to enjoy a bespoke holiday in the Highlands and Islands of Scotland.
This service allows us to organise your dream holiday on your terms. We love the opportunity to use our knowledge, expertise and experience to design and deliver the perfect and unique holiday experience for you. So even if you just have an inkling of an idea, please drop us a line as the earlier we can start planning, the more personalised we can be!
Wilderness Scotland Tailor Made Holidays – Our Approach
Let's talk! You will have a dedicated expert travel designer to help you create the trip of your dreams
Getting creative! We'll design an innovative itinerary for you, building in superb accommodation, activities and experiences.
Follow your passions! We can build your trip around a theme such as whisky adventures, ancient castles or Scottish culture with a range of activities suitable for all.
Let's do it! Once we have agreed an itinerary and price for your trip, we take a 25% deposit and confirm all arrangements on your preferred travel dates.
Enjoy! When the time comes, our expert guides will lead on your dream Scottish holiday, backed up by our full-time office team.
Drop us a line!
Final trip price will vary depending on a number of factors including group size, standard of accommodation and activity inclusions but it is useful for us to know which budget range you fall into when creating a bespoke itinerary.
Why choose Tailor Made for your holiday?
Perhaps you like an itinerary but the dates don't work for you. No problem! We can run it just for you as a private departure, perhaps customising some elements of it, such as upgraded accommodation. Maybe you are travelling with friends or family and would prefer the intimacy and flexibility of a private trip. Or maybe you just want to tap into our expertise and have us create a truly magical holiday, just for you. We can also deliver outstanding experiences for corporate groups. Simply contact us and we'll get to work!
Wilderness Scotland tailor made holidays are available for any group size. Small groups (less than 4 people) share fixed costs (such as guides and transfers) across fewer people so the per person cost tends to be higher with smaller groups. However, smaller groups benefit from a more personal service, so it is still good value for money.
Get Inspired!
Some examples of the kind of experiences we have created in the past.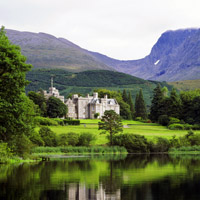 Highland Castle Break
We work with a number of exclusive Highland castles, sleeping 8 to 30 people. Escape for a long weekend or spend a week living like kings. As well as the accommodation, our expert guides will fill your days with activities such as sea kayaking, canoeing, guided walks and more.
Luxury Yacht Charter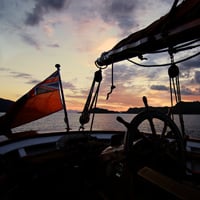 We have access to a number of exclusive yachts for private charter. Chartering a sailing yacht, with an experienced skipper, chef and a walking guide on board is a magnificent way to explore Scotland's west coast and islands. You will be accessing remote bays, endless white sandy beaches and hills to explore, often sharing these locations with just the local wildlife.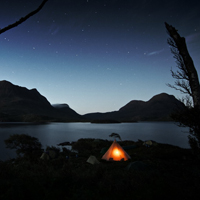 Luxury Camping
Get into the real wilderness in style. You will camp wild, far from any facilities, with the help of our expert guides and support team. The camps may use Mongolian-style yurts or traditional mountain tents but you'll enjoy fantastic meals and amazing wilderness experiences in style.
Destinations

Wilderness Scotland operates all across the country, from the islands of Shetland and Orkney in the north, the Cairngorms National Park in the east, the Outer Hebrides and St Kilda in the west right down to the Trossachs and the Scottish Borders in the south.
We work with a number of luxury accommodation partners in each area, so if there is a particular place you wish to visit, do let us know and we can design your itinerary accordingly.
Tailor Made Trip Reviews
14WSTM Tailor Made trips
by Lesley Thompson 11/08/2014
Pre-Trip Service

Trip Comments

Accommodation and Food

Your Guide

The Bottom Line

Tailor Made
by Thomas Faeh 31/07/2014
Pre-Trip Service

Trip Comments

Accommodation and Food

Your Guide

The Bottom Line

14WSTM Tailor Made trips
by Tat Small 29/07/2014
Pre-Trip Service

Trip Comments
Low point was the steam train trip - nice but second class was rather grotty and we'd seen the same view before that morning!
Accommodation and Food

Your Guide
Ali was great - informative, fun and efficient.
The Bottom Line
Excellent overall - very efficient all round and having a guide was wonderful. Made the trip easy and painless and got us out and about.
14WSTM Tailor Made trips
by Steve Small 27/07/2014
Pre-Trip Service

Trip Comments
High point was a fabulous 5hr "walk" in Glencoe in appalling weather with Ali. It was as much an adventure as a walk only possible as Ali knew the area so well & could take us off the beaten track.
Accommodation and Food

Your Guide
Ali was quite simply superb. Not only was he guide, but companion, concierge and driver. He would be a major reason for us to repeat such a holiday. His passion for the mountains and nature were infectious as was his lovely sense of humour. He also ensured we were safe and properly attired wherever we walked.
The Bottom Line
Overall this was an excellent trip. The only low point was the "Harry Potter Express" which with hindsight we didn't need to do as we had seen all the scenery by the time we took the train on our last day. I suppose it would be something to do on the first day of a trip to see some of the scenery but probably not worth the trouble as getting out into the scenery was far more satisfying. Also the carriages on the train were rather miserable standard railway rolling stock from the 1970s. They were dirty, wet and the service on board was very basic. There was no pleasure in the journey. This is a train service which should be admired from the countryside as it passes you by and not from on board.
14WSTM Tailor Made trips
by David Beecken 23/07/2014
Pre-Trip Service
Karl was very accessible even by phone from US>
Trip Comments

Accommodation and Food
Karl was very accessible even by phone from US>
Your Guide
We greatly enjoyed our guides except for our guide on the River Tay who was inattentive.
The Bottom Line