Tailor Made Holidays
The personal service to create your tailored dream holiday.
Our tailor-made holiday service caters for private groups of all sizes and budgets to enjoy a bespoke holiday in the Highlands and Islands of Scotland.
This service allows us to organise your dream holiday on your terms. We love the opportunity to use our knowledge, expertise and experience to design and deliver the perfect and unique holiday experience for you. So even if you just have an inkling of an idea, please drop us a line as the earlier we can start planning, the more personalised we can be!
Wilderness Scotland Tailor Made Holidays – Our Approach
Let's talk! You will have a dedicated expert travel designer to help you create the trip of your dreams
Getting creative! We'll design an innovative itinerary for you, building in superb accommodation, activities and experiences.
Follow your passions! We can build your trip around a theme such as whisky adventures, ancient castles or Scottish culture with a range of activities suitable for all.
Let's do it! Once we have agreed an itinerary and price for your trip, we take a 25% deposit and confirm all arrangements on your preferred travel dates.
Enjoy! When the time comes, our expert guides will lead on your dream Scottish holiday, backed up by our full-time office team.
Drop us a line!
Final trip price will vary depending on a number of factors including group size, standard of accommodation and activity inclusions but it is useful for us to know which budget range you fall into when creating a bespoke itinerary.
Why choose Tailor Made for your holiday?
Perhaps you like an itinerary but the dates don't work for you. No problem! We can run it just for you as a private departure, perhaps customising some elements of it, such as upgraded accommodation. Maybe you are travelling with friends or family and would prefer the intimacy and flexibility of a private trip. Or maybe you just want to tap into our expertise and have us create a truly magical holiday, just for you. We can also deliver outstanding experiences for corporate groups. Simply contact us and we'll get to work!
Wilderness Scotland tailor made holidays are available for any group size. Small groups (less than 4 people) share fixed costs (such as guides and transfers) across fewer people so the per person cost tends to be higher with smaller groups. However, smaller groups benefit from a more personal service, so it is still good value for money.
Get Inspired!
Some examples of the kind of experiences we have created in the past.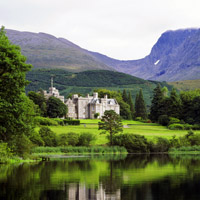 Highland Castle Break
We work with a number of exclusive Highland castles, sleeping 8 to 30 people. Escape for a long weekend or spend a week living like kings. As well as the accommodation, our expert guides will fill your days with activities such as sea kayaking, canoeing, guided walks and more.
Luxury Yacht Charter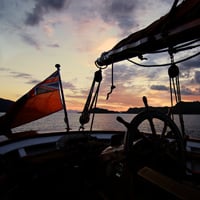 We have access to a number of exclusive yachts for private charter. Chartering a sailing yacht, with an experienced skipper, chef and a walking guide on board is a magnificent way to explore Scotland's west coast and islands. You will be accessing remote bays, endless white sandy beaches and hills to explore, often sharing these locations with just the local wildlife.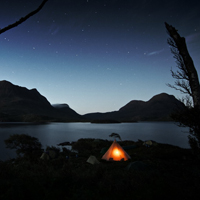 Luxury Camping
Get into the real wilderness in style. You will camp wild, far from any facilities, with the help of our expert guides and support team. The camps may use Mongolian-style yurts or traditional mountain tents but you'll enjoy fantastic meals and amazing wilderness experiences in style.
Destinations

Wilderness Scotland operates all across the country, from the islands of Shetland and Orkney in the north, the Cairngorms National Park in the east, the Outer Hebrides and St Kilda in the west right down to the Trossachs and the Scottish Borders in the south.
We work with a number of luxury accommodation partners in each area, so if there is a particular place you wish to visit, do let us know and we can design your itinerary accordingly.
Tailor Made Trip Reviews
Tailor Made
by Sarah Bain 21/10/2014
Pre-Trip Service
We cant thank you enough for the planning and executing of our trip! from the first email we sent you guys, it has been a warm and professional experience!
Trip Comments
Thr trip was incredibly well planned and far more than we could have hoped. Everyday was exciting and filled with more than enough activites.
Accommodation and Food
We cant thank you enough for the planning and executing of our trip! from the first email we sent you guys, it has been a warm and professional experience!
Your Guide
Ken knows we love him!!! We only wish we had had more days planned with him! Hiking with him in Assynt was undoubtedly the highlight of the trip. We can't wait to come back for more!
The Bottom Line
Our trip exceeded all expectation. It would have taken us months to plan something like it on our own and likely we would never have done half of what we did through Wilderness Scotland. I can't really thank you all enough for what you've given us. Every moment was incredible. We've both traveled quite a bit and this trip is likely the best I've ever taken. We will most definitely be returning to Scotland and hopefully on more Wilderness Scotland trips!
Tailor Made - The Hebridean Trail - Logan
by Neil Milne 13/10/2014
Pre-Trip Service

Trip Comments
The cycling was as demanding as I feared! I certainly had a sense of accomplishment when it was finished, but did worry that it was going to kill me in the process! I realise it's difficult to pitch a tour for varying levels of fitness and so this is not really a criticism - I didn't manage to get in the extent of pre-vacation training I had envisaged. And the one day we had to change our itinerary for weather reasons, resulted in (for me) a very demanding level of exertion which did lead me to question whether I was sane to have embarked on the tour. But my friends were less phased than I was, and I did make it, so everything worked out. I guess for my next Wilderness Scotland trip, I would be inquiring more closely about the relative challenge of a particular route.
Accommodation and Food

Your Guide
Both Henry and Tim were excellent. Seemed to think of everything, were very well informed, and worked well as a team. Also nice guys!
The Bottom Line
In retrospect, it was a great holiday and allowed me to completely forget about work for a while!
Probably I wouldn't have attempted this trip if I had known in advance about the level of fitness required. But having said that, I appreciate being pushed a bit and always had the opportunity to opt out if things got too bad. And being with a group of friends, I never felt any pressure to do anything crazy. By the end of the week I was certainly fitter than when I started and felt more than able to keep up with the group. It probably would have been a bit easier/pleasant if I had put in a bit more training before the trip, but that's easy to say in hindsight.
As I don't live in the UK, getting to/from Inverness was a bit of a pain so I should perhaps have investigated flying direct to Stornoway - this could have eased the logistics but was perhaps only a problem for me?
Overall, it was an excellent week and I would enthusiastically recommend the trip to others (once I'd explained the exertion level!) especially if they could be sure to be guided by Tim & Henry.
Tailor Made - The Hebridean Trail - Logan
by Douglas French 13/10/2014
Pre-Trip Service

Trip Comments
All good apart from a crash which left me with very sore ribs. Being inexperienced I would have welcomed a bit more technical instruction
Accommodation and Food

Your Guide
Tim -very knowledgeable and expert

Henry - brilliant catering and driving

Together - a great team
The Bottom Line
Stunning and memorable
Tailor Made - The Hebridean Trail - Logan
by Gregor Logan 06/10/2014
Pre-Trip Service
Lack of detailed itinerary and slow response to some emails let down otherwise good service.
Trip Comments
Both guides were great, the food excellent, hotels nice enough and the route well thought out and flexible to accommodate changes in weather conditions. A little disappointed to miss the rib crossing and consequently spend more time on road.
Accommodation and Food
Lack of detailed itinerary and slow response to some emails let down otherwise good service.
Your Guide

The Bottom Line
On the road was great- experience of head office a little less so.
14WSTM Tailor Made trips
by Pawel Debowski 02/09/2014
Pre-Trip Service

Trip Comments

Accommodation and Food

Your Guide
All your guides were very nice and professional guys!
The Bottom Line