Tailor Made Holidays
The personal service to create your tailored dream holiday.
Our tailor-made holiday service caters for private groups of all sizes and budgets to enjoy a bespoke holiday in the Highlands and Islands of Scotland.
This service allows us to organise your dream holiday on your terms. We love the opportunity to use our knowledge, expertise and experience to design and deliver the perfect and unique holiday experience for you. So even if you just have an inkling of an idea, please drop us a line as the earlier we can start planning, the more personalised we can be!
Wilderness Scotland Tailor Made Holidays – Our Approach
Let's talk! You will have a dedicated expert travel designer to help you create the trip of your dreams
Getting creative! We'll design an innovative itinerary for you, building in superb accommodation, activities and experiences.
Follow your passions! We can build your trip around a theme such as whisky adventures, ancient castles or Scottish culture with a range of activities suitable for all.
Let's do it! Once we have agreed an itinerary and price for your trip, we take a 25% deposit and confirm all arrangements on your preferred travel dates.
Enjoy! When the time comes, our expert guides will lead on your dream Scottish holiday, backed up by our full-time office team.
Get Inspired!
Some examples of the kind of experiences we have created in the past.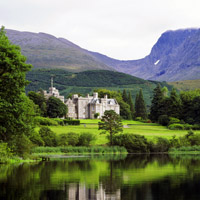 Highland Castle Break
We work with a number of exclusive Highland castles, sleeping 8 to 30 people. Escape for a long weekend or spend a week living like kings. As well as the accommodation, our expert guides will fill your days with activities such as sea kayaking, canoeing, guided walks and more.
Luxury Yacht Charter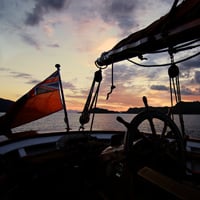 We have access to a number of exclusive yachts for private charter. Chartering a sailing yacht, with an experienced skipper, chef and a walking guide on board is a magnificent way to explore Scotland's west coast and islands. You will be accessing remote bays, endless white sandy beaches and hills to explore, often sharing these locations with just the local wildlife.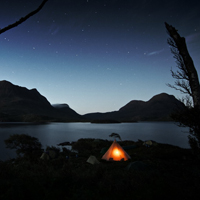 Luxury Camping
Get into the real wilderness in style. You will camp wild, far from any facilities, with the help of our expert guides and support team. The camps may use Mongolian-style yurts or traditional mountain tents but you'll enjoy fantastic meals and amazing wilderness experiences in style.
Describe Your Dream and We'll Make it Come to Life!
Final trip price will vary depending on a number of factors including group size, standard of accommodation and activity inclusions but it is useful for us to know which budget range you fall into when creating a bespoke itinerary.
Why choose Tailor Made for your holiday?
Perhaps you like an itinerary but the dates don't work for you. No problem! We can run it just for you as a private departure, perhaps customising some elements of it, such as upgraded accommodation. Maybe you are travelling with friends or family and would prefer the intimacy and flexibility of a private trip. Or maybe you just want to tap into our expertise and have us create a truly magical holiday, just for you. We can also deliver outstanding experiences for corporate groups. Simply contact us and we'll get to work!
Wilderness Scotland tailor made holidays are available for any group size. Small groups (less than 4 people) share fixed costs (such as guides and transfers) across fewer people so the per person cost tends to be higher with smaller groups. However, smaller groups benefit from a more personal service, so it is still good value for money.
Destinations

Wilderness Scotland operates all across the country, from the islands of Shetland and Orkney in the north, the Cairngorms National Park in the east, the Outer Hebrides and St Kilda in the west right down to the Trossachs and the Scottish Borders in the south.
We work with a number of luxury accommodation partners in each area, so if there is a particular place you wish to visit, do let us know and we can design your itinerary accordingly.
Tailor Made Trip Reviews
15WSTM Tailor Made trips
by Roel Bakker 06/05/2015
Pre-Trip Service

Trip Comments

Accommodation and Food

Your Guide

The Bottom Line

14WSTM Tailor Made trips
by Joost Goderie 05/11/2014
Pre-Trip Service
Information was not complete : as last minute changes were made some information was missing (e.g., dinner)

TEAM WILDERNESS RESPONSE:
Thanks for your feedback. It is true that there were changes up until the last minute however this was a very last minute trip. You contacted us one week before your arrival date so we needed to use all the time available to create the trip for you and your family. We're sorry you found that some information was missing; we do provide a trip dossier that includes all the details of the trip including details of all meals that are included and we are always on hand if you have any questions or anything is unclear.
Trip Comments
Low: No instructtor with fly fishing;; B&B was less quality than expected drom price
High: Fonab Castle (friendly staff) + tree hike

TEAM WILDERNESS RESPONSE:
We're sorry that you didn't enjoy the fishing. As you know our regular fishing area was not available because of floods and we did suggest several other alternatives that would have suited your family better than fishing, much along the lines of the 'tree hike' which was a high point of your trip. However you were very keen to fish so we did arrange that for you. Fly-fishing is a solitary sport and it is not the case that you will have instruction the whole time or someone with you, once you have been shown the basics then typically you are left to enjoy the river. We're sorry if this is not what you were expecting and appreciate your feedback so we can make this clearer in the future.

We are really surprised you did not like your accommodation in the Cairngorms. It genuinely is the nicest and highest rated guesthouse in the area and we were really lucky to be able to book the rooms at such short notice.
Accommodation and Food
Due to relatively high price we thought the B&B was of too low quality

TEAM WILDERNESS RESPONSE:
We are really surprised you did not like your accommodation in the Cairngorms. It genuinely is the nicest and highest rated guesthouse in the area and we were really lucky to be able to book the rooms at such short notice. Both the accommodation and restaurant has won numerous awards and is feature in both the Good Food and Good Hotel Guide as well as the Michelin Guide. These kind of accolades, and especially level of cuisine included, do come at a price compared to other accommodation but we will feed back your comments to the accommodation provider.
Your Guide
Nice guy, very good interaction with the kids
The Bottom Line
Great trip, good organization but from price perspective either too expensive or accomodation of too low stamdard

TEAM WILDERNESS RESPONSE:
We do really appreciate all the feedback we receive so thanks for taking the time to send us it. The accommodation you stayed at is genuinely one of the best in the area with an amazing restaurant but we will pass on your comments. It sounds like you had a good time overall so hopefully we can welcome you to the highlands again soon.
14WSTM Tailor Made trips
by Pete Shaw 30/10/2014
Pre-Trip Service
You genuinely can not fault this area of business - Karl was brilliant with me and the flexibility re payment and info from the group was incredibly helpful and reassuring!
Trip Comments
We paddled down the River Spey in glorious weather in mid October! There had been a bit of rain pre trip which had made the river swell a little giving us some fun water but ensuring our varying skill group able to paddle and enjoy! Low point... getting on the plane back to our day job! This is a trip you can not improve!!!
Accommodation and Food
The camping was awesome - we were able to make fires... man like fire!! And eat warm hearty meals filling us full of tasty goodness but ensuring the carb load pre paddle! More duck pate...!!!
Your Guide
Although technically not a wilderness guide (and I completely understand why you do what you do) Biscuit was brilliant, genuinely happy and caring wanting to improve the experienced paddler as much as taking time with the beginner. His clear desire to make the trip the best he possibly could was evident and the support crew were also incredibly helpful and went out of their way to make sure we had what we wanted or needed be it beer, mcdonalds or
Waterproof trousers!!!
The Bottom Line
I have only used Wilderness once - this was an error... I should have used them many many times already!! They are a company dedicated in making your trip the best it can be. We paddled down the River Spey in open canoes over 4 days and camped. The trip was amazing, including rapids and lots more white water, spectacular views, camp fires, hearty grub and the odd tipple at a whiskey distillery on the way down. This trip was awesome, you don't have to be a super experienced paddler as your guide will... errr guide you and teach you down the 'wetter' bits! An experience you do not want to miss... I dare you to stand up down the washing machine!
14WSTM Tailor Made trips
by Kevin Springer 26/10/2014
Pre-Trip Service
We really appreciated how quickly and last minute you were able to put our trip together (silly us for waiting so long to plan). It was fantastic, and we appreciated how you incorporated all of our input into the plan. I also thought it was a nice touch that you set up our car reservation for us - it saved me time (and possible confusion about what the best options were).
Trip Comments
We really enjoyed everything, and we definitely plan to come back to Scotland to see more. The best excursion bits we probably wouldn't have come up with on our own were the ATV outing, the Rib trip on Loch Ness, and the Mary King's Close tour.
Accommodation and Food
The accommodations were fantastic! We especially liked Inver Lodge and Glen Coe House, but really everything was pretty great. The only recommendation I might make here was that Eilean Iarmain Hotel, while in a pretty location, was a bit far from the rest of the Isle of Skye. Something more central would have worked better. We decided on our own to go to the 3 Chimneys for dinner one night and wound up staying in a little B&B in Dunvegan that night (to cut down on driving) called Kilmuir Park, and it was fantastic (in case you're looking for options to add to your lodging list). I don't mean for this to sound critical though - we really enjoyed everything!
Your Guide
Ken is fantastic, absolutely fantastic! He was friendly, knowledgeable, and concerned about making sure we had the best experience we possibly could. He took us on a great hike in Assynt that we never would have found on our own which was breathtakingly beautiful. He also told us we should feel welcome to call him for tips and advice at any point during our entire trip, which I thought was a really, really nice gesture.
The Bottom Line

14WSTM Tailor Made trips
by Sarah Bain 21/10/2014
Pre-Trip Service
We cant thank you enough for the planning and executing of our trip! from the first email we sent you guys, it has been a warm and professional experience!
Trip Comments
Thr trip was incredibly well planned and far more than we could have hoped. Everyday was exciting and filled with more than enough activites.
Accommodation and Food
Overall, the accommodation was spectacular. The Bonham and Fonab castle were comfortable and beautiful. The Bonham was very well oriented for walks around the city. Inver lodge was one of our favorites! A wonderfully beautiful location and the staff was amazing. And Glencoe house was beyond expectation on every level.
Your Guide
Ken knows we love him!!! We only wish we had had more days planned with him! Hiking with him in Assynt was undoubtedly the highlight of the trip. We can't wait to come back for more!
The Bottom Line
Our trip exceeded all expectation. It would have taken us months to plan something like it on our own and likely we would never have done half of what we did through Wilderness Scotland. I can't really thank you all enough for what you've given us. Every moment was incredible. We've both traveled quite a bit and this trip is likely the best I've ever taken. We will most definitely be returning to Scotland and hopefully on more Wilderness Scotland trips!