Book your activity holiday with Europe's No.1 Adventure Travel Company - Wilderness Scotland
Our walking holidays are a wonderful way to experience the Scottish Highlands.
Wilderness Walking holidays are based from small hotels, guest houses or Highland lodges.
These are generally 3-4 star in standard, offering a high level of comfort and service. You enjoy daily walks and hikes, led by our expert guide, carrying only what you need for the day.
These walking holidays are a wonderful way to experience the Scottish Highlands and Islands. Some itineraries are based in one location throughout, while others visit two or three different regions.
A combination of hill walks, coastal walks and valley walks are available across the itineraries. Our grading system allows you to choose a trip to match your fitness and aspirations. Whichever trip you choose, you will experience variety of hikes, discovering beautiful scenery and real Scottish hospitality along the way.
---
Trip Reviews
Customer Kudos
Every client receives a feedback survey when they return from their guided, self guided or tailor made holiday with us.
Once completed the review is published on our website just as soon as our database updates. The little touches and details are important to us and where issues are raised we make positive changes to our trips to improve your experience.
That's why we read each of our client's reviews and although we don't respond to all of them, if it's glowing feedback then we get the satisfaction of helping to make your holidays truly memorable.
It was a great trip. The walking was much easier than I expected but that's largely down to me underestimating my fitness - so next time round I'll booking blue. The scenery was awe-inspiring......I went on the trip for some relaxation and wow-factor and Torridon & Applecross delivered just that.
Linda Doull
02/05/2014
Walking Norway - The Lofoten Islands
A very enjoyable holiday, which also gave me a sense of achievement.
Marion Miranda Buckley
07/07/2013
I have two.

While exploring a rocky beach on Skye I was yelled at by a Sand Piper for getting to close to its nest and I was so entranced by that little bird. Less than five minutes later we came to a field of multi-colored flowers that was un-touched by sheep or cows. I could have laid down in that field and just stared at the blue sky - that bird and field filled me with joy,

I was yelled at or pursued by a Sand Piper, Black Headed Gull, Tern and Oyster Catcher by unintentionally coming too close to their nesting grounds - each experience was wonderful and fascinating. My experience with all the birds I came across on the trip reinforced how much I love birds and enjoy seeing them.
Katherine Boynton
27/06/2013
If you find yourself overwhelmed by the choice, or if you have questions about your fitness or suitability for any of these holidays, please feel free to contact our office on +44 (0)1479 420020 or by email.
Top 5 Walking Routes in the Cairngorms: Ben Macdui
Posted on Oct 12, 2015 by Peter Grant

Tackle the Cairngorms highest point in this cracking hike. Wilderness Guide Peter Grant shares number 5 of his Top 5 Walking Routes in the Cairngorms. This time the mighty Ben Macdui. Previous walks: Fiacaill of Coire an Lochain and Feith Buidhe Bynack More and Stac na h-Iolaire Loch an Eilein and Creag Dhubh Sgoran Dubh Mor and […]
Continue Reading
Top 5 Walking Routes in the Cairngorms: Fiacaill of Coire an Lochain and Feith Buidhe
Posted on Oct 07, 2015 by Peter Grant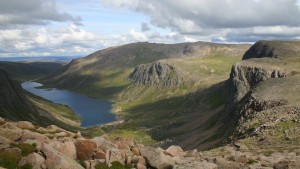 A more challenging walk to a Cairngorm craggy outcrop. Wilderness Guide, Peter Grant shares another of his Top 5 Walking Routes in the Cairngorms: Fiacaill of Coire an Lochain and Feith Buidhe. See previous walks: Bynack More and Stac na h-Iolaire Loch an Eilein and Creag Dhubh Sgoran Dubh Mor and Sgor Gaoithe Fiacaill of Coire […]
Continue Reading
---