Book your activity holiday with Europe's No.1 Adventure Travel Company - Wilderness Scotland
Our sea kayaking holidays and courses offer a wonderful way to explore the coastlines of the Highlands and Islands.
And before you ask – no, you don't need to be able to do an eskimo roll!
In fact, many of our trips are suitable for people with limited experience of sea kayaking and we have a course for beginners too.
If you prefer some comfort while sea kayaking, our range of 'Scottish Sea Kayak Trail' trips are based from welcoming hotels and inns, with day paddles on the sea. Similarly, our Introduction to Sea Kayaking trip is based from a private bunkhouse, so you are back indoors each night.
Our more challenging trips are expedition style, with wild camping on remote beaches and islands – a genuine wilderness experience. The West Coast Explorer is an excellent choice if you want to try camping – it combines stays in a remote bunkhouse with some nights camping under the stars to get the best of both worlds!
---
Trip Reviews
100% Unedited Reviews
Our clients receive a feedback survey automatically after finishing their guided, self guided or tailor made holiday with us.
Once it's submitted the review is automatically published on our website just as soon as our database updates. We read all our client's reviews and although we don't respond to all of them, where issues are raised we make positive changes to our trips to improve your experience and if it's glowing feedback then we get the satisfaction of helping to make your holidays truly memorable.
We had a great trip with a large number of different experiences and challenging situations. Our most inspirational moment were the wilderness camping element where we would choose our 'own' islands to camp on and just 'be ourselves.
Annette Christiansen
02/08/2013
We / I enjoyed the trip and it acted as a spur to get us out and using our kayaks again after a 3 year break.

However, I would suggest that people who expect to be paddling with peopl who have a minimum of 10 days paddling experience should think again. Only one or 2 people other than I and my partner seemed tohave done basic bow rescues and one member of the group couldn't remember how to use his paddle - he did improve. Wilderness scotland should do a better check on what people say they have done as part of the pre information Maybe they did with others - and decided gertting a full trip was more important than average ability of the group.

I would also say to anyone coming fully equipped as we did - they should negotiate a discount - we were fully equipped, and I felt that Wilderness scotland could have offered a discount as they did not provide boats and we did brought our own bouancy aids/ paddles/ kags / tents etc etc.. and we made this clear them prior to the trip .
Jackie Leslie
01/09/2013
If you find yourself overwhelmed by the choice, or if you have questions about your fitness or suitability for any of these holidays, please feel free to contact our office on +44 (0)1479 420020 or by email.
Sea Kayaking Photography; How to Shoot on the Water
Posted on Mar 17, 2015 by Erin Bastian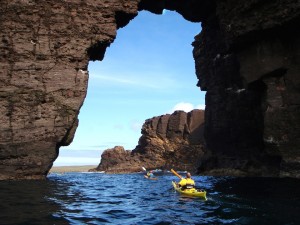 Who knew you could combine cameras with the ocean and get a fantastic outcome rather than drowning a very expensive piece of technology? After losing my first two cameras to a surprise attack from a freak wave and then a devastating slip of the hands resulting in a slowly sinking birthday present, I thought that […]
Continue Reading
The Ultimate Sea Kayaking Resource for Beginners
Posted on Mar 12, 2015 by Rupert Shanks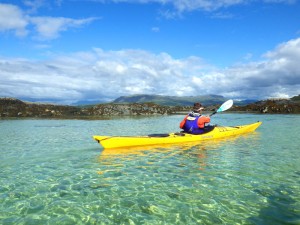 Thinking of taking the plunge into the world of Sea Kayaking? Well we have compiled the ultimate Sea Kayaking resource for beginners, to help keep you dry, smiling and paddling like a champ. Here is a carefully crafted selection of sea kayaking articles which should give you the confidence to take to the water like a dream. The Truth […]
Continue Reading
---