The Scottish Sea Kayak Trail has made the National Geographic's 2011 'Tours of a Lifetime' and Outside Magazine's coveted 'Travel Hot List for 2011'
No camping, just comfortable beds, hot showers, excellent local restaurants and a little tipple on the way!
Sea Kayak from the Isle of Gigha to Oban, passing many beautiful Hebridean islands along the way
Link this trip with our 'Scottish Sea Kayak Trail: Central – The Jacobite Coast' trip, and also the Scottish Sea Kayak Trail North – The Gaelic Coast trip, which run on consecutive dates. Join all three trips for an epic sea kayaking adventure
Blue Graded Sea Kayaking Holidays 4-6
Our Blue grade sea kayaking trips are suitable for people with at least 5 days previous experience, although don't worry if you have never Eskimo Rolled! You should be confident on the water and it is preferable if at least some of this experience was under instruction, such as on our Introduction to Sea Kayaking in Scotland course.
You should have a good level of fitness as you can expect up to 6 hours of sea kayaking each day, with plenty of breaks onshore to stretch your legs. The kayaking will be in coastal waters with few open crossings and you can expect to kayak up to 12km in a day, although this will be subject to weather and wind conditions.
Again, all of our blue trips are accommodation based, so you can enjoy hot showers and a warm bed throughout the week.
Before joining this trip, the questions you should be asking yourself are:
1. Do you have more than 5 days paddle experience?
2. Do you have a good level of fitness?
3. Do you love getting out and about in some beautiful wild places?
On this accommodation-based sea kayaking trip, you will stay in two different hotels along the route. For the first two nights, we stay at a 3 star small hotel located on the shores of Loch Fyne. Accommodation is in a choice of twin or double rooms.
We then move slightly further north and spend the final three nights in a 3-star hotel, located on the shores of Loch Melfort.
Breakfast and packed lunches are provided each day. For evening meals, we can choose to dine in the hotels or visit local bars or restaurants, enjoying the best of local produce.
SINGLE ROOM SUPPLEMENT
We do not charge single person supplements to people booking on their own. However you will be expected to share a room with another person of the same sex. It may be possible to book a single room, provided one is available. Please request this at the time of booking and we will let you know if one is available. For this trip, a supplement of £200 is charged if a single room is required.
You will be met by your Wilderness Scotland Guide at Oban Railway Station at 1200hrs on Day 1 of your trip. Please make your way outside, to the front door of the train station ticket office where you will see the Wilderness Scotland minibus and trailer just across the road in the temporary parking area. Your guide will be waiting there for you. For full details on how to get to Oban, please see our website: Travel to Scotland
Customer Kudos
Every client receives a feedback survey when they return from their guided, self guided or tailor made holiday with us.
Once completed the review is published on our website just as soon as our database updates. The little touches and details are important to us and where issues are raised we make positive changes to our trips to improve your experience.
That's why we read each of our client's reviews and although we don't respond to all of them, if it's glowing feedback then we get the satisfaction of helping to make your holidays truly memorable.
by Jacques Bergman 13/08/2016
Pre-Trip Service
Ali was really an excellent guide
Trip Comments

Accommodation and Food

Your Guide
Ali was great. he adjusted the plans acording to the weather and requests by the group. Very proficient in driving the truck and getting us on and off the water. Great adjustements based on weather and wind conditions. A+ score!
The Bottom Line

by Diederik Bergman 07/08/2016
Pre-Trip Service

Trip Comments

Accommodation and Food

Your Guide

The Bottom Line

by Beth Symonds 06/09/2015
Pre-Trip Service
standardised dates for pre trip info had drawbacks for me - I left home a month before trip as was travelling to other places in Europe (from Australia).

TEAM WILDERNESS RESPONSE:

Thank you for your comments, we do send our final information out 2- 4 weeks before the trip start date but we would be happy to agree an earlier date in cases like yours. Please don't hesitate to ask in future.
Trip Comments

Accommodation and Food

Your Guide

The Bottom Line
Really good, great trip for the right person
by Matthias Juenemann 06/09/2015
Pre-Trip Service
Downloading Trip Dossiers is annoying, as always contact data needs to be filled in
Trip Comments

Accommodation and Food
Especially Loch Mellfort Hotel is excellent!!!
Your Guide

The Bottom Line

by Hanne Groth 22/08/2015
Pre-Trip Service

Trip Comments

Accommodation and Food

Your Guide

The Bottom Line

by Marc Sidwell 12/08/2015
Pre-Trip Service
We thought that all of the information provided was excellent and that you answered all of our questions.
Trip Comments
Our guides went out of their way to find the best places to paddle every day and to provide a great experience.
Accommodation and Food
We loved the second hotel at Loch Melfort, but we didn't really like the first one near Loch Fyne.
Your Guide
Our guides were excellent - so knowledgeable and did exercises with us. They were interesting to talk to a great to be with after the paddle.
The Bottom Line
Great trip. We will do this again!
by Sharon Berg 06/08/2015
Pre-Trip Service
response time to questions could have been more prompt
Trip Comments

Accommodation and Food
I give a good because the first hotel was below expectations though not horrible. As I mentioned in my previous comment, the room was alright but the food was abysmal. The packed lunches were ample but the quality was very poor.

The second accommodation was very good. In every respect. Pleasant room, attractive common spaces and very good food.

WILDERNESS SCOTLAND RESPONSE:
Thanks for the comments about the packed lunches; I'm sorry that you didn't enjoy them. We'll pass on your comments to accommodation to ensure they are better for our next group.
Your Guide
see previous comment.

It was helpful to learn some good kayaking techniques from both Howard and Zoe.
The Bottom Line
I discovered that being on the water was not enough for me. I would have preferred a trip that combined some hiking and much more historical/ geographical information on the areas we passed through. It was a pleasure to make the acquaintance of some wonderful fellow travelers.

Please work to improve your response time to e-mail queries. That is a major issue. Apologies are not helpful.

WILDERNESS SCOTLAND RESPONSE:
I'm sorry that you thought our response times were slow. We do aim to respond to all emails within 24 hours during our working week, which is Monday to Friday. We had originally dealt with another member of your party who had to cancel her place on the trip. The one email we have from you was sent on a Thursday evening to a colleague who works part time. She was not in the office on the Friday and does have an out of office to that effect. The office is closed over the weekend so we responded to you on the Monday morning. I believe your email was about car parking and we're always on the other end of the phone if you need help with that sort of thing quickly.

Our sea kayaking trips do focus on being on the water, exploring the coastline that way. It sounds like this probably wasn't the ideal trip for you but hopefully you enjoyed the experience anyway!
by Richard Booth 03/08/2015
Pre-Trip Service

Trip Comments
The paddle trips were well paced to individuals abilities and weather conditions, which combined with coaching allowed individuals to develop their paddling skills as week progressed. By end of the week felt much more confident in a sea kayak with a real sense of achievement at the distance covered. A fantastic experience all round.
Accommodation and Food
Enjoyed both hotels, particularly the loch Melfort hotel.
Your Guide
Both guides were excellent and clearly at the top of their game. Always felt safe even when conditions became a little more 'testing'.
The Bottom Line
Excellent trip, expensive yes, but cost well reflected in quality of experience, the hotels and the guides. Will hopefully be back next year to do another part of the sea kayak trail.
by David Weinberger 02/07/2015
Pre-Trip Service
The trip was awesome! We had a nice mix of easy paddles and more challenging paddles. The scenery was fantastic and we loved the casual nature of the whole trip.
Trip Comments
The kayakimg was the highlight. We paddled in spite of not so great weather which was great. Often, guides or participants back off on rainy days, but both our guides and fellow participants were intrepid paddlers and we were able to joyously paddle everyday.
Accommodation and Food
The accomodations were nice if not a bit worn down. However, they exceeded our experience on the WHW. Food was good but the exchange rate with euros made it a bit expensive. Part of the journey though.
Your Guide
Zoe and Sarah were excellent, friendly guides. They were good at sharing paddling tips and were always aware of safety concerns. They were fun to paddle with and to share meals with. I like how they stepped up the paddling challenges each day and provided a great mix of casual and challenging opportunities. They were flexible with the weather and presented us with options for each day. I would defiantely recommend them to others and would travel with them again.
The Bottom Line
The kayak trip was a great addtion following our self guided WHW walk. The scenery was awe inspiring and it was great to see another side, a beautiful side, of Scotland. We were lucky to have a great group and it was fun to get to know them and paddle with them. I enjoyed the single kayaks as they allowed greater freedom on the water and allowed us to practice our individual paddling skills. Pretrip info was helpful and the office team was great with helping us prepare for the trip. Thanks for a great time.
by Helen Gillies 29/06/2015
Pre-Trip Service
Questions always answered promptly
Trip Comments
kayaking round easdale, under the bridge and across the cuan sound although the next day pottering around the boats at ardfern in flat calm was fantastic followed by watching seals playing
Accommodation and Food
The grey gull was past its sell by date! badly needed refurbished although comfortable beds.; packed lunch was pretty awful and no choice. loch melfort dining room was lovely and good choice for breakfast and also for packed lunch; food in the bristro was better than the formal dining room; fab views!

TEAM WILDERNESS RESPONSE:
The Grey Gull Inn is a beautiful old building, locally run in a fantastic location with great facilities. Some of the rooms are ready for a paint and this is ongoing but challenging for the owners to complete during the season when at full capacity but will be undertaken in the quieter winter months. The rooms are clean and tidy with comfortable beds. It is just one of many old 3 star accommodations in the highlands of Scotland and one that we will visit again to ensure it is up to standard.

Your comments about lunch have been fed back to the owner who was shocked as they take pride in quality service and produce at the Grey Gull Inn. The owner will personally oversee the lunches on our next trip to ensure they are of the quality that we both wish to deliver to our clients. It is feedback such as this that allows us to work together with our accommodation partners to deliver a high quality experience for our clients so thank you.
Your Guide
Zoe and Sarah had lots of info to impart and learned more on kayaking technics from Zoe which i shall try to work on! 4 people carrying a kayak makes it easy so thanks for that especially for women; and should be insisted on; Sarah's knowledge of what is under the water is amazing. It would be a good idea for all the kayaking guides to have a discussion before the season starts re where to launch kayaks from and where to come back in; going through a foot of mud is pretty bad; guides could make a list for others to use.

TEAM WILDERNESS RESPONSE:
Thanks for your comments about launch points. Conditions can change from year to year. Our guides complete a trip report for each of their trips which allows future guides to access this information and hence not use the same point again in a given season and make future guides aware of the potential pitfalls of a certain launch point.
The Bottom Line
Yet again it was a great trip and well organised although missed sandy beaches for coffee stops and biscuits; have to include them in next years trip
Prices and Departures
35 people viewed this trip in the last week
Book with confidence - we guaranteee our trips to run as soon as 2 people book.
Trip Date
Price
Availability
Trip Status
3rd Sep - 8th Sep 2016
£1,095
Trip Full
17th Jun - 22nd Jun 2017
£1,095
Places available
29th Jul - 3rd Aug 2017
£1,095
Places available
2nd Sep - 7th Sep 2017
£1,095
Places available
Trip Details
The Scottish Sea Kayak Trail is Europe's first long distance sea kayak trail, stretching from Gigha in the south to the Summer Isles in the north.
The trail was created by sea kayaking aficionado Simon Willis to encourage sea kayakers to explore Scotland's west coast, and has quickly been recognised as one of the best sea kayaking journeys on the planet.
This trip is designed to allow you to discover the best parts of the southern section of the Scottish Sea Kayak Trail, between the Isle of Gigha and Oban, on a series of day paddles. Rather than camping, accommodation is in sea-kayaker-friendly west coast hotels, meaning that you always have somewhere warm and dry to return to after a day on the water. We have a split the trail up into 3 manageable sections South, Central and North.
This trip will introduce you to wonderful coastlines such as the isles of Gigha, Luing and Seil, Loch Craignish and Loch Melfort. Each day we move a little further north, enjoying the fantastic sea kayaking to be found along the Scottish Sea Kayak Trail.
The Trail itself is completely unmarked and undeveloped so the sea kayaking offered is a pristine experience. Under the watchful eye of our experienced guides, you can develop your sea kayaking skills while discovering the amazing seascapes and wildlife of Scotland's west coast.
At the end of each day, you can enjoy a hot shower and a visit to the local restaurant or pub for dinner before snuggling down with your duvet in our cosy accommodation. If you (like us) you enjoy your sea kayaking and your home comforts in equal measure, then look no further than this itinerary!
Trip Itinerary
Day 1 – Welcome and onto the water! You will be met by your guide in Oban and we'll transfer south to the Kintyre Peninsula for an afternoon paddle, refreshing your sea kayaking skills and introducing you to the wonderful southern Highland scenery. Late afternoon, we transfer to our first accommodation, located on the shores of Loch Fyne and enjoy an informal whisky tasting, sampling a selection of the finest whisky from the 11 distilleries within a 30 mile radius.
Day 2 – The Scottish Sea Kayak Trail Begins! From our hotel, it is a short transfer to the put-in point and the start of the Scottish Sea Kayak Trail. If conditions are good, we may paddle across to the Isle of Gigha, one of the prettiest Hebridean islands. Alternatively, we can explore West Loch Tarbert and its many small islands and skerries. We return to the hotel late afternoon.
Day 3 – Sea Kayaking in Loch Craignish and Skerries There are many possible destinations today as we leave our hotel and travel north a short distance, crossing the Crinan Canal along the way. Our likely destination is Loch Craignish, which offers good sea kayaking in fairly sheltered waters. Its many islands are dotted with the remains of ancient sites such as forts, chambered cairns and sculptured stones. Overnight at Loch Melfort.
Day 4 – Sea Kayaking: Croabh Haven and Shuna Today we sea kayak in the bay directly in front of our hotel. We can plan our route over breakfast, surveying the bay from the breakfast room's panoramic windows. There are many small islands and ports to explore and we will land in a few places to explore on land as well.
Day 5 – Sea Kayaking: Luing and Seil A memorable day of sea kayaking as we explore the beautiful Seil Sound. If conditions are good, we may kayak to the island of Easdale, which is home to the World Stone Skimming Championships! If tides are right, we may paddle along a narrow channel and under the Bridge over the Atlantic – you'll be amazed at its span!
Day 6 – Final morning's paddle After breakfast at the hotel, we'll enjoy a morning of sea kayaking, either on Loch Melfort or in the Sound of Kerrera, completing our exploration of the southern section of the Scottish Sea Kayak Trail. We return to Oban early-afternoon which offers us the opportunity to have a guided tour of Oban Distillery and allow time for people to connect with trains home.
Call Your Adventure Consultant Now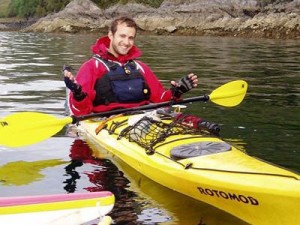 Speak to the Team
Call or message. Get straight through to a local expert in the Highlands of Scotland.
Phone
Prices and Departures
35 people viewed this trip in the last week
Book with confidence - we guaranteee our trips to run as soon as 2 people book.